SThree: Rituals, responsibility & resilience
DeeDee Doke
27 September 2021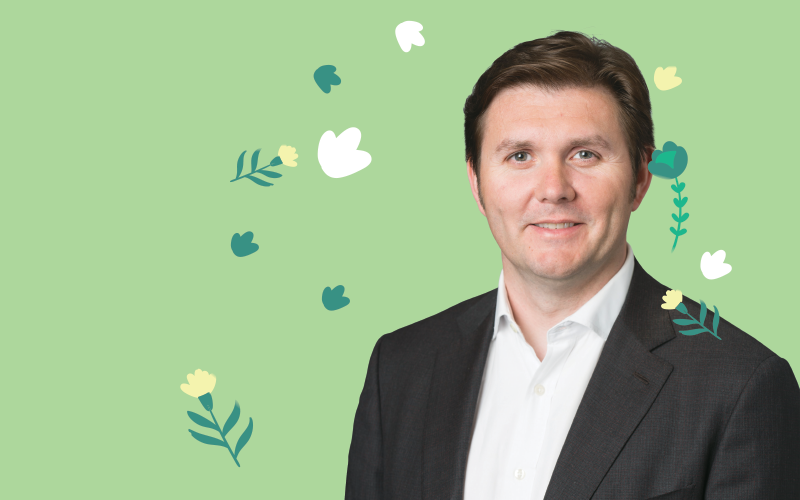 SThree CEO Mark Dorman has got the global STEM recruiter through the pandemic by sticking to its sustainability goals. DeeDee Doke spoke to him about leading the company through the global crisis
Keeping to a routine made all the difference to SThree CEO Mark Dorman while he juggled global commitment as the Covid-19 pandemic raged.
"It's very easy to let things blend into one another," agrees the Connecticut, US-based Dorman during an online conversation in August this year. "You have to make sure that you're looking after yourself because it's very easy to get sucked into the machine [the screen] that I'm looking at right now – simple things like, you know, my workout regime, communicating with people not just on work but on other parts of life as well.
"And simple ritualistic things – even at the worst when everyone was growing a beard and wearing a t-shirt, I'd shave and put on my shirt," he says, gesturing to the crisp white office-proper shirt he's wearing. "That's me coming to work, and I could separate it [work and off-duty] out. It is a bit of a ritual thing, but it helped me, that's for sure."
Sustainability on a personal level – and sustainability is a hallmark of the company that Dorman has led since March 2019. SThree won the Sustainable Recruitment Company of the Year in the 2020 Recruiter Awards by, among other points, aligning its business model to the UN Sustainable Development Goals (SDGs), which in turn has provided a foundation for a range of organisational activities and priorities at SThree operations around the world (see box).
SThree's moves include:
Reducing airmiles by 5% in 2019 through challenging the travel decisions of colleagues
Each staff member has 16 hours of paid volunteering leave every year, enabling them to strengthen their local community through skill sharing and contributing time. Against a target of 1,500 hours in 2019, staff volunteered 2,495 hours in their local communities
Implementing new recycling stations with signage to improve waste management
51 African girls from low-income backgrounds are at university studying STEM subjects, thanks to the SThree Foundation's partnership with 10 STEM organisations in key markets.
I couldn't be more proud of all the people at SThree and their resilience and their hard work"
Responsible working
However, the Sandhurst-educated Dorman is quick to credit his predecessor, former SThree CEO Gary Elden OBE, for leading the company into prime environmental, social and governance (ESG, formerly corporate social responsibility) position through such works as establishing the SThree Foundation, the group's registered charity, in 2016.
"I'm building on the shoulders of giants," he says. "Here, we have a long history of what used to be called Corporate Social Responsibility. So, we're building on that as well as being environmentally conscious."
Of 'sustainability', Dorman says: "We don't see it as an 'initiative'. It's core to who we are as a business. It's bringing it to be a central component of how we operate, given it fits exactly with the kind of talent and the purpose that we have as an organisation. It's really just an extension of an overall strategy."
The strategy and its results are attracting positive attention. This year, the company was ranked 69th out of 300 in the Financial Times Europe's Climate Leaders 2021 rankings, with one measure showing SThree had reduced its core emissions 18.8% year-on-year between 2014-19, aligned with revenue growth.
Client reaction has been favourable, too. "More and more," Dorman says, "clients are asking for some of these activities: What are you doing on your carbon footprint? Do you have a diverse pool of people that I can pull from to actually place within the job or placement that I have?"
Also, Dorman notes, clients want to know SThree's position on "certain topics, and more and more it's being asked for directly; we're more than happy to deliver that".
Because carbon emissions emerge more heavily from energy-intensive industries like manufacturing than they do from recruitment agencies, SThree focuses its carbon-reducing activity around travel. "There are conscious choices around how and when to travel, then what type of travel you're going to undertake so do you take a train versus a plane and the difference between the number of tonnes of carbon used by that kind of travel or doing events," Dorman says.
"The other piece is our footprint and the technology we use. And then the last piece, which as you know is longer term, is working with our landlords in terms of their energy sources."
And, Dorman says, he has just had an internal conversation about company cars and, in addition to reducing their fleet, "how fast can we get the entire fleet to be electric during the coming year".
---
Sustainability at SThree
The company's business model is aligned to the UN Sustainable Development Goals, which in turn influences the company sustainability strategy.
The company sustainability strategy has three goals:
Reducing absolute carbon emissions by 10% by 2025
Supporting community projects that engage and inspire 200 people from diverse backgrounds to access STEAM education, training and careers
Empowering colleagues to use their time and skills to strengthen their community through 1,500 volunteering hours.
---
People power
Driving forward the sustainability agenda is also about incentivising SThree staff to "make positive choices", he acknowledges.
While the company already employs "a pretty passionate group of people that are very focused on these topics", increasing headcount also brings SThree into contact with potential employees who care, Dorman says.
The 16 hours of volunteering offered to each employee is one aspect of the company's two-tiered approach to contributing time to the communities they serve. There's centrally-organised volunteering "so that people can come and understand you at a corporate level, the organisations that we're working with", Dorman explains. And there's volunteering at the local office level.
For instance, recent floods in Belgium and Germany prompted SThree employees in nearby offices to work directly with local organisations that were supporting people affected by the raging, catastrophic waters.
Asked about SThree involvement in the upcoming UN Climate Change Conference (COP26) to be held in Glasgow this autumn, Dorman refocuses the question around what the company is doing about climate change, full stop. "We're helping to build green skills," he says. SThree's renewable energy business is growing 37% year-on-year, he adds, and the goal is to double the renewables business by 2024.
"We think we're well on track to doing that because we're focused on a sustainable future."
And with the worst days of the pandemic likely behind us, what does Dornan see as its lasting impact on SThree? "Even through that time," he says, "our purpose has never been more relevant. I think the way in which we probably changed the most is our ability to rely on our people and trust our people to be flexible and work in a more dynamic way than we had in the 'past'.
"As we think about aligning again with our ESG strategy and with diversity, equity and inclusion within a hybrid environment, we will be able to access different talent than we had before in our business, in more flexible and diverse ways, and we're very excited about the opportunity to do that.
"It's pretty exciting that we've come through what we've come through... I couldn't be more proud of all the people at SThree and their resilience and their hard work."
Image credit | Shutterstock