MAC calls for £4.4k drop in threshold for skilled migrants
MAC calls for £4.4k drop in threshold for skilled migrants
28 January 2020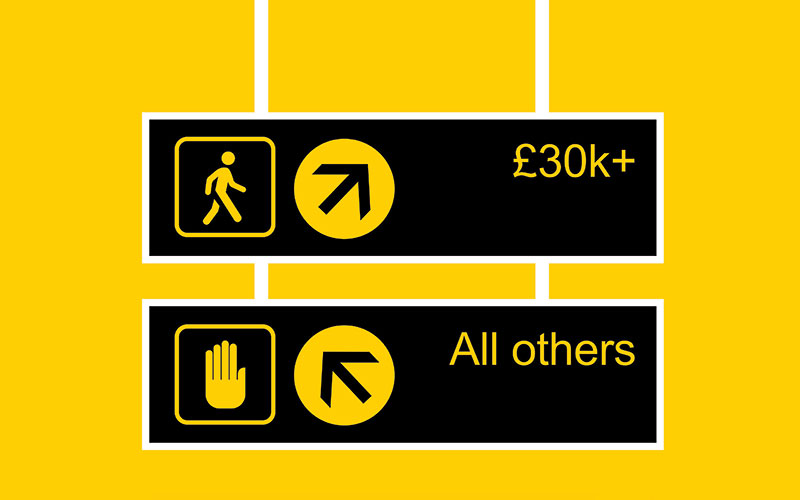 The Migration Advisory Committee has called on the government to lower the salary threshold for immigrants to the UK by £4.4k.
The proposal features in a series of recommendations made in a MAC report, released this morning.
The MAC has recommended that the current threshold of £30k, which skilled migrants from outside the EU currently need to have as a job offer, should fall to £25.6k in a bid to ease recruitment of workers like teachers and NHS staff.
The report also recommends that fishing workers, people engaged in elementary agricultural roles and waiting staff should not be classified as skilled workers. However, roles such as air-conditioning and refrigeration engineers, rail and rolling stock builders and repairers, skilled metal, electrical and electronic trades supervisors, carpenters and joiners, glaziers, window fabricators and fitters, plasterers, floorers and wall tilers, painters and decorators, construction and building trades supervisors, childminders and related occupations, teaching assistants and educational support assistants should be.
On government plans for a point based system post Brexit, the MAC recommends:
That the current framework for the Tier 2 (General) route as a work visa requiring a job offer without tradeable points (points migrants can trade against points in which they are lacking such as holding certain qualifications, being proficient in the English language or a willingness to work in certain professions) should continue.
That if government wants to have a PBS route on entry, it could modify the Tier 1 (Exceptional Talent) route which requires no job offer, to focus more on those with exceptional promise than an established track record.
That any changes should not repeat mistakes made in UK systems in the past but draw on best practice from other countries which would include a cap and the use of the Expression of Interest system (a tool to manage selection under specific immigration programmes).
That there should be a review of the settlement rules as there is virtually no information on how the current settlement process works and so this should be evaluated.
That any new system for migration needs to be properly monitored and evaluated to ensure it is meeting its clearly defined objectives.
Responding to the report, Gerwyn Davies, senior labour market adviser, for HR trade body the CIPD, said: "Today's recommendations will provide some mild, temporary relief for many employers concerned about the new immigration system. Many will be relieved to see that the lower minimum salary threshold of £25.6k does not include sectoral or regional variations. This would have added complexity to a system many already feel daunted by. 
"In addition, the expansion of a new unsponsored route, together with other proposed temporary routes, such as the Youth Mobility Scheme, will ease the cost and administrative burden for some employers. On the downside, other employers will be disappointed that the MAC has not supported lower salary thresholds for shortage occupations, especially public sector employers who have less scope to raise wages in response to labour shortages.
"With this in mind, employers will be keen to see the temporary one-year visa extended to two years when the government makes its final policy announcement in spring. In the meantime, the important thing for employers is to get up to speed with the new system fast."
Tim Rycroft, chief operating officer, Food and Drink Federation (FDF), said: "Reducing the £30k minimum salary threshold for skilled workers to £25.6k is a step in the right direction from the MAC and partially reflects FDF's call to lower the salary threshold along with the skill threshold for this visa.
"Nevertheless, we would urge the government to consider going further still by adopting the 'going-rate' system outlined in the previous Home Secretary's letter to the MAC as part of a new system that would also allow our members to recruit the talent they need at all skill levels.
"The new immigration system must also be accessible for the many food and drink manufacturers who will be recruiting via an immigration system for the first time. EU nationals currently make up a quarter of our 430,000 workforce and a survey of our members showed that 95% employed EU nationals without the need for visas. Many of these will be small or medium-sized businesses who are unable to afford expensive legal fees and the new system must be streamlined to reflect this."
• Comment below on this story. You can also tweet us to tell us your thoughts or share this story with a friend. Our editorial email is recruiter.editorial@redactive.co.uk