Job boards step beyond the remit
26 May 2017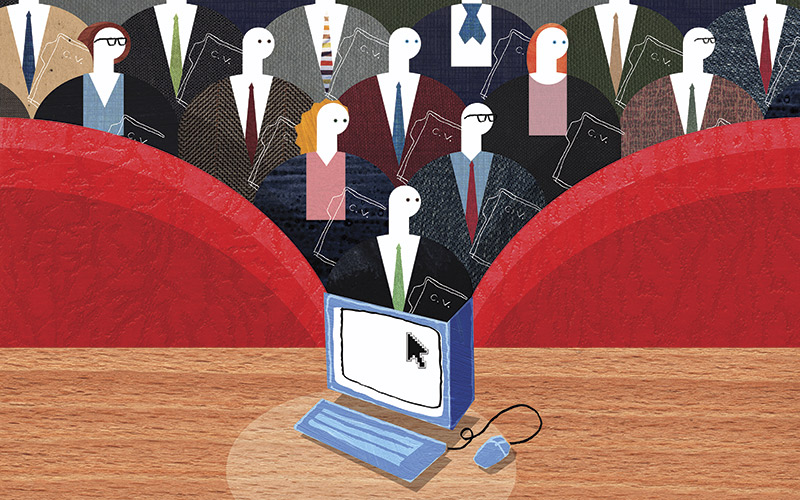 Matching candidates with jobs is still the aim but, as Sue Weekes discovers, job boards are gradually stepping beyond that remit to meet the new demands of jobseekers
Technology is increasingly influencing our behaviour even though we might not always notice it. To give an example, Monster managing director Andy Sumner would choose a supermarket with contactless payments over one that simply offered chip and pin every time. "It is only a few seconds saved but my expectation is to be able to just wave my card and go," he says.
Sumner believes job board owners must similarly be alert to these subtle changes in expectations that dictate a candidate's actions. "Technology changes behaviour and while it might be an unconscious decision, it is a decision that matters," he adds.
While the traditional job board model continues to face competition from social media and aggregators, as well as corporate career sites, it is still an enduring one, built on the simple premise of matching candidates with employers and jobs. While the proposition has stayed the same, the technology delivering it has changed dramatically. Moreover, candidates have become more tech-savvy and used to the level of simplicity and seamless experience in the online world afforded by the likes of Google and Amazon.
With the majority of job searches beginning on a smartphone, the mobile space is the next battleground
Mobile matters
With the vast majority of job searches beginning on a smartphone, the mobile space is the next battleground for candidate attention. As evidence of job boards' desire to be in line with other consumer online experiences, both Monster and Reed.co.uk are offering 'swipe left to apply, swipe right to move on' mobile apps akin to the approach used by the dominant dating site Tinder.
Monster hopes its new app will get around the "painful" apply process in the mobile space by allowing candidates to swipe and apply with a CV if it is already loaded on to its database. It is also offering a "lighter" profile that can serve as an introduction to an employer. Sumner claims tests have shown the new app achieves nine times the 'apply' rate.
Reed.co.uk's mobile app has been available for around 12 months and MD Martin Warnes reckons it is driving 20% of all traffic. Significantly, it has also launched an app for agency recruiters. Consultants can advertise jobs, manage job applications and search the CV database via the app. "We've seen some changes in behaviour. Usage has gone up earlier in the morning and goes on until later in the evening," he says. "Not that we are encouraging recruiters to work for longer but we are empowering them to get to candidates earlier."
Mobile is also a priority for CV-Library but founder and MD Lee Biggins says that not all candidates are as well-informed about uploading their CVs to DropBox or cloud-based drives as they could be so there are still some challenges around helping them use documentation when they apply. It is one of the organisations chosen by Google to beta test new technology that effectively turns a bookmark into a mobile app. "It means a lot of work for us in the background but it is leading-edge technology and will help jobseekers apply for jobs on their mobile," he says.
ATS agenda
Ensuring a seamless experience in the mobile space isn't the only challenge cited by job boards. Better integration with applicant tracking systems (ATSs) is also high on the agenda. According to Biggins, this has become a priority as more corporates want to track where applicants are coming from. "Many ATSs don't understand the needs of the candidate," he says. "Their job is to weed out lower quality candidates but what they tend to do is give a poor UX [user experience] and drive away good quality candidates who don't have time in their day to go through 10-page forms. This can lead to a 40% drop-out rate in applications."
To address this, CV-Library is building a piece of technology that locks into the ATS and pre-fills forms with the necessary data, as well as carries through the CV into the mobile space (as long as the candidate is registered with the job board).
"Corporates are starting to understand the loss of application traffic at this stage. Some of smaller ATSs are waking up to it and integrating with us but unfortunately some of the bigger ones don't think it's a necessity," he says.
Totaljobs has also undertaken a great deal of work in this area with its ATS Apply (ATSi) technology. John Salt, group sales and marketing director, says that some companies were seeing a 90% drop-out rate in applications between job board and ATS because candidates were having to jump through hoops and use "ancient" technology.
"Clients were spending a lot of money on attracting talent and we were spending money on delivering it, and then candidates would get into a system that was impassable," he said. Totaljobs, which is part of the Totaljobs Group owned by StepStone that also includes Jobsite, invested heavily in research and development in this area to "mend this part of the funnel". "ATS providers didn't see the need to integrate with us, just with the client's HR system," he adds. "ATSi has seen application drop-out rates go down to 4% in some cases. So that's nine times more people applying. It might not be sexy or glamorous technology but it is something you have to focus on."
Job boards do have some clear advantages over career sites
Winning websites
Integration with ATS providers such as Taleo is also in high demand from its clients, reports 4MAT, which builds sites for employers and recruiters. It looks as if job boards will face more competition from the career site as direct employers recognise the benefit of spending their money on building and communicating their employer brand, as well as having control over the candidate experience.
"Overall it seems job boards are being squeezed by better careers websites and the rise of the job aggregators," says Warren Davidson, 4MAT's head of digital marketing. "Many aggregators openly share the fact that job boards use them to generate applications and so many organisation take the view 'why not go direct to the aggregators?'. That said, with all advertising it's about testing what works for you and your business, and I'd always recommend a blend of advertising channels." Job boards do, however, have some clear advantages over corporate career sites and aggregators. A corporate site can't give the visibility over a range of vacancies from a range of employers, while aggregators don't have the same scope for building communities and delivering tailored content and careers advice to candidates. Specialist or niche job boards, in particular, have become expert in the latter.
CareersinAudit.com, which won the best job board/careers board category in the Recruiter Awards 2017, is one of the best examples of community building. It features almost 300 career advice articles, boasts its own 'Audit Agony Aunt' and even cares about its 191,000 registered candidates' work-life balance and emotional wellbeing.
Recruiter's owner, Redactive Media Group, runs more than 20 niche job boards in sectors such as actuarial, midwifery and project management, as well as rec-to-rec recruitment. "Whatever the sector we try to make sure our content is as unique and fresh as possible," says Emma Phillips, recruitment sales manager at Redactive. "All focus on one market and we see different trends across each of them but when we talk about the importance of employer brand, content and thought leadership, that applies to every market."
In the real world
And while job boards were born and grew up in the online world and many steadfastly remain purely digital businesses, some have recognised the importance of spreading their tentacles in the real world. Francesca Parkinson from the student and graduate site Milkround.com explains that it has built an offline events proposition within the market that includes its After School Options fairs, which take place in March and October, with over 7,000 school leavers attending.
"This development not only helps to educate young people on how to best network and approach employers, but allows the employers to showcase their schemes to top talent," she says, adding that the job board as a largely transactional model has to evolve. "We will see jobs boards becoming more competitive and diverse in their offering. There is a lot of opportunity to support employers in their attraction strategies where new challenges are presenting themselves."
As another mark of job board sector's evolution, CV-Library has opened three new bricks and mortar regional offices this year in Birmingham, London and Manchester. "E-commerce is a very big part of our business and many SMEs just want the 360-product service online but our bigger corporates want to understand how they can attract and engage candidates so going out and meeting them face-to-face is very important," says Biggins. "It's quite ironic that I started the company in 2000 thinking I could work on a laptop anywhere in the world on a beach."