Insight: Augmented hiring
Delphine Vantours
17 April 2020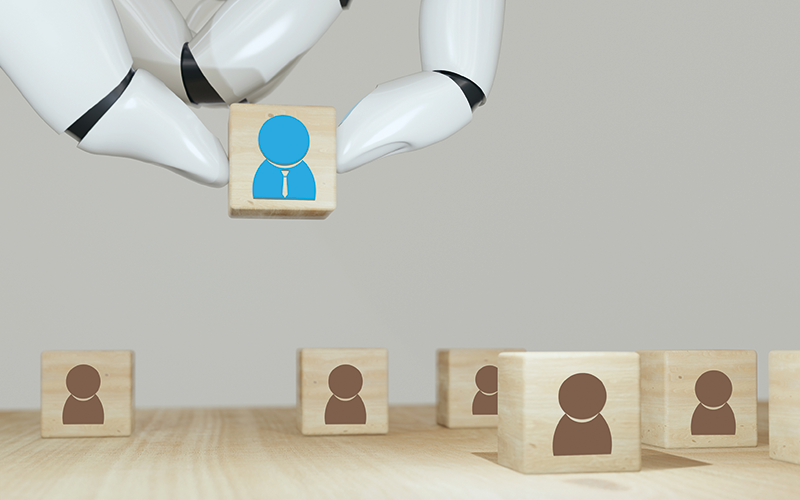 AI is changing the hiring process for the better, but so also is the career management for employees
HR professionals need the right tools to meet the needs of the employee on the move. And I am convinced that artificial intelligence (AI) is to become an essential resource to onboard, develop and retain the most talented people. It's a tool for the entire employee lifecycle.
Currently, the focus of AI seems to be on recruitment; little is said about the use of new predictive AI tools to enhance career management. And yet, we must guide and support our people throughout their careers with us. It's taking a data-driven approach, rather than a 'gut feeling' approach to hires, although human experience is vital to work with data and AI, not be replaced by it.
But there's a challenge. We can conduct skills assessments, but how do we follow through? Annual appraisals provide structured information, but once a year is insufficient. On the other hand, ongoing feedback is too unstructured to be efficient. Information exists in disparate forms (sometimes handwritten notes), siloed, with little insight about best practices in other departments and sectors. Human capacity to meaningfully analyse such data is limited by time.
Truly individualised guidance on training and development is needed for each employee. To be relevant, guidance needs to be custom-tailored on a wide scale.
This is where the 'augmented manager' comes in. An augmented line manager is one who uses the latest generation of AI software, to access large quantities of data, analysed specifically to develop their teams. AI can distinguish and process even weak signals for insights.
New employees
Let's take a practical case. An employee arrived six months ago. Having gone through onboarding, she has a clear picture of her role and the organisation of her department. She is assimilating the corporate culture and starting to build her internal network. At this stage, few companies would look after her proactively.
Now, let's imagine that your organisation has adopted two AI platforms. The first platform is a virtual adviser, always ready to answer your new employee's questions about the company and give her tips. It can keep her informed of events organised by colleagues. It can also listen to and process any remarks she might care to make.
AI is not an HR gadget; it is a tool for the entire employee lifecycle"
The second platform sends the line manager custom recommendations, specific to each member of the team. Feeding on huge amounts of anonymised data, algorithms detect and interpret weak signs. For example, the system can warn the manager to hold a one-on-one with the new talent before she decides to explore other horizons; or it can recommend internal mobility for a high flyer who seems to be getting bored with their current duties, especially when it spots a recent opening that would fit them like a glove! Current advances in conversational interfaces suggest that it will become more and more natural soon to interact with this type of AI.
These developments in career and skills management will affect larger and smaller enterprises alike. Eventually, smaller firms will benefit from algorithm models developed for or by big businesses.
Personally, I have tried out this principle in a firm where it is still possible to have systematic one-on-ones with newcomers to help them fit in. These meetings enable us to deal with a learning curve phenomenon that consistently occurs around 21 days after the employee's arrival: the 'I know that I don't know' syndrome, a source of anxiety. In a large company, how can you possibly assess this type of phenomenon without an intelligent data processing system?
AI is not an HR gadget; it's a tool for the entire employee lifecycle.
The arrival of AI raises major issues with regards to skills. I am convinced that AI will fundamentally change the nature of work, as laid out by John and Matt Rauscher in their book Service revolution 4.0. The authors explain why transformation of skills is an issue, particularly for 'knowledge workers'.
From where I stand, it is obvious that managers will not be competing with AI but will be harnessing it – augmented management.
It is recognised that a broader definition of 'training' is needed. For example, the notion of 'training plan' is giving way to that of 'skills development plan', and skills-based on the job training modules are increasingly valued as alternatives or supplements to conventional classroom learning.
On the employee side, workers seek greater flexibility in continuing education and more options for choosing which skills to develop. On the employer side, management is expected to communicate more specifically on strategic training goals.
Not only will AI bring about the 'augmented manager' but we will also need to move from mere training and development, to something like 'augmented competencies'. This is going to happen fast.
The traditional hiring process and career management are being transformed for the better. 
---
Top 7 books read by Recruiters
What are you reading these days? According to online learning platform Perlego, the following were the most popular books with recruiters across Europe between August 2019 and January 2020, based on the choices of 500 recruiters. Recruiters read 24% of each book on average and spent an average of four hours and 28 minutes reading per month.
Build It
The Rebel Playbook for World-Class Employee Engagement
Glenn Elliott, Debra Corey, 2018
Exceptional Talent
How to Attract, Acquire and Retain the Very Best Employees
Mervyn Dinnen, Matt Alder, 2017
The Diversity Bonus
How Great Teams Pay Off in the Knowledge Economy
Scott Page, Earl Lewis, Nancy Cantor, 2017
Talent Wins
The New Playbook for Putting People First
Ram Charan, Dominic Barton, Dennis Carey,2018
The Millennial Whisperer
The Practical, Profit-Focused Playbook for Working With and Motivating the World's Largest Generation
Chris Tuff, 2019
The Alliance
Managing Talent in the Networked Age
Reid Hoffman, Ben Casnocha, Chris Yeh, 2014
The Effective Hiring Manager
Essential Hiring and Team Building Lessons
Mark Horstman, 2019
---
Delphine Vantours is chief people officer, Sidetrade
Image credit | iStock