Upstart: upReach levels the educational playing field
Colin Cottell
17 April 2020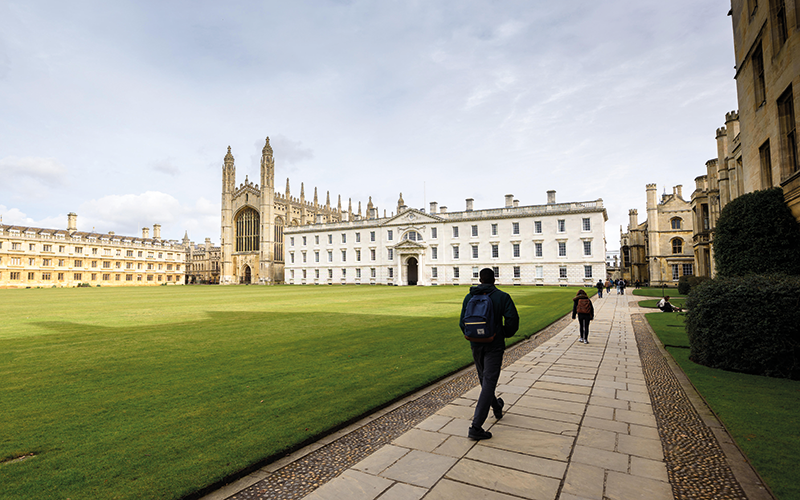 While many like to see the UK as a meritocracy, where people succeed based on their talent and hard work, the facts suggest otherwise. 
According to research by Dr Louise Ashley, an expert on diversity & inclusion within the workplace, access to graduate schemes into the professions, such as law or accountancy, is heavily skewed, with 70% coming from those who attended or selective schools. This despite these schools only educating 11% of children.
John Craven, CEO of upReach, a charity that works to support university students from less privileged backgrounds and on whose advisory board Ashley sits, claims that statistically, "a former comprehensive school pupil is 17 times less likely to get into a graduate scheme than someone who attended a private or selective school".
Although an attainment gap emerges between school pupils from privileged backgrounds and those from less privileged backgrounds during the first five years at school, Craven says this has nothing to do with a person's intelligence or ability. As he points out: "At university, where everyone has access to the same lectures and support, that attainment gap closes."
Nevertheless, Craven says the legacy of going to a state school when compared with attending a private or selective school continues to linger all the way through university, with devastating effects on the former's careers and professional opportunities. Describing this lasting legacy as 'the employability skills gap', Craven says it comes about from "things like access to work experience through extracurricular activities, being taught in smaller classes, where teachers can take more risks, and more group work".
The charity has developed a framework, which measures students against 10 different criteria, such as communication skills, teamwork, work experience and commercial awareness"
Background basics
A student's background also plays a big part, says Craven. "People from more affluent backgrounds have networks that are very useful to them and enable them to perhaps get an internship, or perhaps some work experience in the first year. There might be Radio 4 on at home, and they might get involved in dinner party conversations, where things are being discussed that are relevant to professional careers."
It was while working as a maths teacher in a private school and comparing it with his experience of teaching in a number of state schools that Craven says the penny dropped. And especially after he read some research from upReach that had been working with educational and social mobility charity The Sutton Trust. This showed that even when people from state schools got a good degree, they were disadvantaged when it came to jobs and careers. "They aren't able to get a good job afterwards, they typically earn less and they get promoted less quickly," says Craven.  
His interest piqued, Craven successfully applied for upReach's then vacant CEO's position. Almost five years on, Craven says upReach supports 1,600 students across 66 UK universities, including Russell Group Universities such as Exeter and Cambridge, with the aims of increasing the number of students to 2,500 by 2022.
Among the high-profile organisations that actively support upReach's work are Deloitte, Goldman Sachs and McKinsey, who this year took four of upReach's students onto its graduate programme. "On the whole it's because they want to access talent that maybe they currently aren't accessing very well," Craven explains.
Craven says levelling the playing field in terms of narrowing the 'skills employability gap' means that upReach only works with pupils who attended state schools. Additional eligibility criteria are household income of less than £42k a year, and at least three Bs at A-Level. upReach also contextualises students' academic performance, having developed an algorithm that boosts their UCAS points by up to 24 points – the equivalent of three grades. This adjusts students' academic performance based on factors, including their exam results relative to that of their school, and their postcode. Craven says the vast majority of upReach students have multiple indicators of disadvantage. "Three-quarters come from a home where household income is below £25k, over half were eligible for free school meals when they were at school and three-quarters were the first in their family to go to university," says Craven.
---
Successful student support
Gemima Pople, a BA History graduate from University of Exeter, who now works as a management consultant for KPMG, who received support from upReach in 2017-18, says:
"upReach has helped me throughout all of the stages of my internship and graduate scheme applications over the last 12 months. Liam (an upReach programme co-ordinator) has read through and made comments on all of my written questions in the initial stages of the applications. This was the stage I was often rejected at before upReach.
"The support I have received over the last year has been extremely valuable. In particular, having mock interviews and the detailed feedback has allowed me to go into the real interviews feeling much more confident. Beyond application help, upReach and Liam in particular have been a great motivational factor during this stressful final year of university."
---
Employability assessment
Craven says the first step for those on the three-year programme is to assess their employability. He says the charity has developed a framework which measures students against 10 different criteria, such as communication skills, teamwork, work experience and commercial awareness, giving them a score between one and five.
Craven says using the framework at the start of the programme confirms the gap between those from advantaged and less privileged backgrounds. According to Craven this is evident in terms of things like teamwork, and leadership. "Or maybe it is around confidence in conveying very commercial awareness."
The results of this assessment, which students are asked to complete every August or September each year so their progress can be tracked, form the basis for the programme, which is tailored to each individual student. "So if we know that a student is level one for teamwork, we know that we need to get them engaged in team activities, or encourage them to attend team events we run to help them build their team skills." Among the 14 interventions on the programme are skills workshops, for example, to improve a student's communication skills, and insight days at employers. "It might be the first time a student has gone into a professional environment; it might be a flashy office in Canary Wharf, so that can be a great experience for them."
Other support and advice includes CV reviews, mock interview and assessment centres, as well as an online platform, where students can practice tests remotely. They can also watch videos and participate in Skype sessions. Other aspects of the programme include work experience programmes and internships run by upReach on behalf of employers, such as Aviva, which don't have their own. Each student has one to one support and coaching from one of the charity's 28 programme co-ordinators, who work with the student for the three years they are at university.
Building those all important social connections and helping students to build networks is every bit as important as skills training, says Craven. Networking takes several different forms, he says, with one being for students to sign up for mentoring with existing professionals, attending upReach's employer events on behalf of their organisation. Craven says efforts are made to match students with mentors working in professions that they are interested in entering, as well with those from similar backgrounds as their own.  
They are willing to support each other because it is a kind of community, where they feel they have something in common"
---
Proud to partner upReach
"As proud partners of upReach, we support their social mobility vision to help talented individuals achieve their full potential, regardless of their background. We have worked with upReach since 2016; in that time we have built a strong mentorship programme, offered networking sessions and insight events. Most recently, we launched the Banking and Finance Springboard, designed to enhance participants understanding of the finance industry and provide employability skills to help them realise and achieve their career ambitions." International head of talent at Bank of America Merrill Lynch
---
Continuing support
Additional support comes from students who have previously been through the programme, who come in to give talks, as well as peer-to-peer support from those on the programme - even from those in different universities, with WhatsApp groups proving particularly helpful. "They are willing to support each other because it is a kind of community, where they feel they have something in common, and this means they are able to massively increase their network than it would otherwise have been."
upReach also works closely with university careers services, as well as university societies and clubs. According to Craven eight universities, among them Exeter, fund students on the programme, while many others promote it – for example, by putting on events. In addition to working with employers' graduate recruitment teams, upReach also works closely with organisations, whose commitment to improving social mobility comes through their CSR programme. Craven says "a great example" is Bank of America Charitable Foundation, who gave upReach a grant that will pay for someone in the charity's team to support 90 students interested in a career in banking and finance, as well as the salary of upReach partnership manager David Steel. "They are supporting us not just to support the bank but because it is a good thing in its own right as a charity," says Craven.
Bank of America Charitable Foundation is also funding upReach to open in Bristol, Nottingham and Newcastle. Craven says support for those from underprivileged backgrounds, outside London, where most of the corporate world's efforts is focused is particularly welcome. "Social mobility is a much bigger issue outside of London," he says, "particularly white working class males and females, who are underrepresented when it comes to getting graduate jobs."
While upReach and the universities and employers it works with have already made a big difference, when it comes to levelling the playing field for university students from state schools, it clear that much more remains to be done. 
Image credit | Alamy