Adapting to remote hiring in the time of COVID
9 September 2020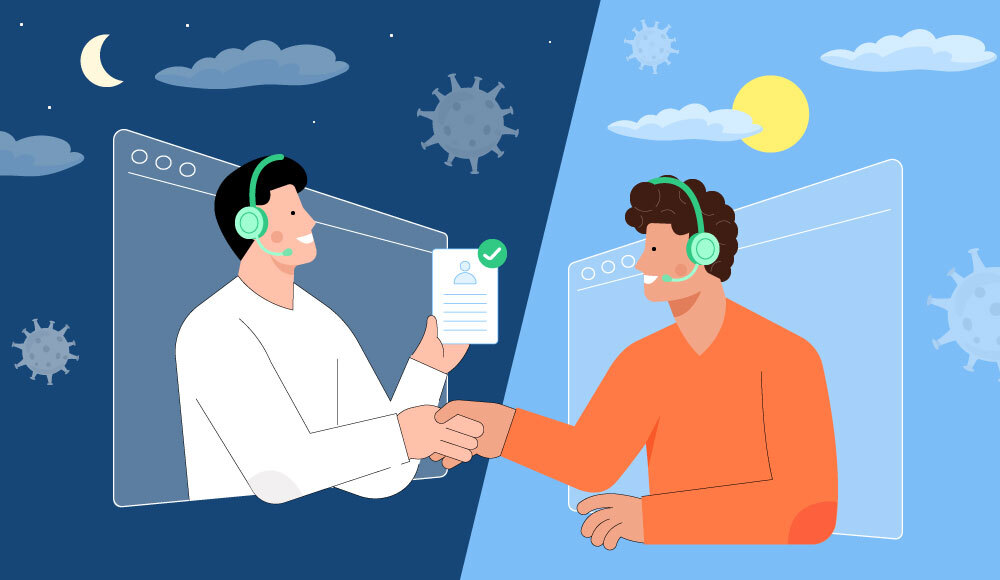 In a matter of months, COVID-19 has changed the world forever. It has transformed the way we all live, connect and work. None of us will ever be the same. Neither will businesses. Nor will hiring. On one side of the street, companies are closing down and laying people off. On the other side, there is a growing demand and opportunities are booming. The season is marked by candidates in transition. 
Attracting the right candidates, screening them for a new way of working and giving them a convincing reason to join you is going to be a lot more challenging than usual.
Let's look at 5 areas where you need to build strength to navigate this season (or who knows, maybe even the rest of eternity) and how the right HR software like Freshteam can help you adapt to the change.
1. Set up a real and empathetic career site - The chaos and uncertainty can instill a sense of fear in candidates - the fear of being exploited or making bad decisions. So whether it's your job ad or career site, keep it real, share your values and vision, put out job descriptions that sell the WHY behind every job. Freshteam empowers you to set up and publish a customized career site in minutes without any help from your tech team.
2. Automate mundane tasks with the right technology - An ideal HR software can automate upto 80% of your recruiters everyday tasks like emails, follow ups, screening and more. It can free them up for more strategic areas of work during this time. For example, the right tool can automatically screen candidates, send out online tests when a candidate reaches an interview stage, email feedback to rejected candidates, archive overqualified candidates to a talent pool -  the possibilities are endless.
3. Use tools to collaborate with the hiring team - Working from home can be even more challenging for HR teams given that you'll have to discuss candidates, interview them and make decisions as a team. With a tool like Freshteam, your team members will be immediately notified when they have an interview scheduled, or when their feedback is due. Your team members can collaborate remotely as it allows them to rate candidates, leave comments for each other, write notes, and register your hiring verdict on the software. Work keeps moving like just another day, uninterrupted.
4. Set up a smooth interview process - Wading through a sea of candidates and spotting the perfect ones to interview can be hard enough. Scheduling and coordinating interviews can be a piece of cake if you let a software assistant take over. A calendar sync enables recruiting coordinators to check interviewers' availability and schedule interviews just like that. What's more fascinating is that tools like Freshteam have an autopilot that sends out notifications and follow ups to all the panel members and candidates on its own, saving you those numerous follow up mails and phone calls. You won't even notice that you are not working out of the same office anymore. 
In addition, integrations with video interview tools like Skype and Google rooms make for an effortless transition to remote interviewing.
5. Focus more on your onboarding process - At any other time, onboarding an employee might mean inducting them into the company processes and culture and introducing them to their team, who would teach them the rest, over water-cooler banters or cups of coffee. However remote working has made it much harder to assimilate new hires into the company, ensuring they connect with the team, make friends, know who's who and in the process feel known and heard. Hence a robust onboarding process is crucial to set up your hire for success, under remote working conditions.
You can engage and start connecting with your candidates as soon as they sign offers: send out virtual onboarding kits - culture videos, people stories, handbooks, onboarding forms, policy documents, org charts etc. Better to over-communicate than not communicate at all.
To conclude, remote hiring poses an entirely new set of challenges to recruiters but the right software tools can make your life much easier. Here's what a leading CEO had to say about their tryst with HR technology:
"I feel it's extremely important that organizations try what really works for them and in that journey, it's important that a system doesn't hold you back from experimentation but enables it. And Freshteam has done that for us." - Mekin Maheswari, CEO Udhyam (previously Chief People Officer, Flipkart) 
Freshteam by Freshworks, is a smart HR software that has all the tools and features needed to equip you for remote hiring. You can try it out for free here.