Benchmarking: compare and contrast
19 April 2017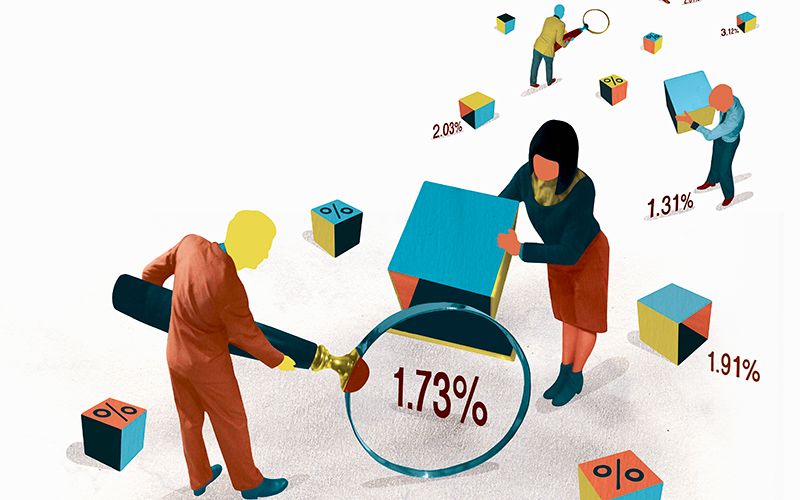 It's never been easy to operate a successful recruitment business but being able to compare your company against your competitors is a good start
Understanding and benchmarking one's performance against similar-sized businesses as well as the market is always considered good practice. This is particularly important given the current uncertainty surrounding Brexit and the free movement of labour, an increasing skills gap and a devalued pound.
M&A firm Clearwater International has analysed all the current data of privately-owned, UK-based recruitment agencies that reported a minimum annual turnover of £5m in their latest available financial accounts. The data covers the reporting periods from January 2014 to March 2016. The analysis revealed some interesting themes.
Fragmentation
The 361 businesses analysed together generated total revenues of £18.5bn, which account for 54% of the £35.1bn industry. The 25 largest privately-owned firms, which are dominated by oil & gas recruiters, make up close to 25% of the UK recruitment industry. The statistics highlight just how fragmented the UK marketplace is – a situation further accentuated by the 4,000 new recruitment firms being founded each year.
Growth 
Privately-owned agencies, whose performance is highly correlated to economic cycles and business confidence, have achieved robust growth over the past three years, with a compound annual growth rate (CAGR) of 8%. The statistic is consistent with research by the Recruitment & Employment Confederation that the total market has grown at 9% per annum over the same period.  
The fastest-growing sector was education with a three-year CAGR of 21%, followed by finance with a 15% CAGR. The industrial sector, which represents 23% of the list, only recorded a CAGR of 5%.
Margins
While it is always positive to witness top-line growth, the real acid test comes with the gross profit margin and its conversion rate to earnings before interest, tax, depreciation and amortisation (EBITDA). Over the past three years, gross margin has tracked fairly consistently between 21% and 22%, with an average gross profit margin to EBITDA conversion rate of 6%. However, there are stark differences between sectors.
Unsurprisingly, the executive search firms are achieving the best margins. These firms, which focus on high-level, C-suite placements, have a revenue mix skewed towards permanent placements and, as such, will report very high gross margins. The average for a search firm was 57%, but with a broad range from 20% at the low end through to 95% at the high end. This contrasts to the multi-sector recruiters who often provide a range of lower value blue-collar contract recruitment. The average gross margin for a multi-sector business was 19% with an EBITDA margin of only 4%.  
Education is another sector that makes for interesting analysis, and is one that is receiving heightened attention as UK schools face an impending recruitment crisis. Last year agency spend in the sector reached £1.3bn, having surged by 25% in the past two years alone. The data is alarming and illustrates the severity of talent shortages in the market. Recruiters with access to vetted talent have naturally benefitted from the inability to suspend classes and to some degree the inelasticity in pricing. This is reflected in the key metrics, with the average gross margin standing at 32% and an EBITDA conversion rate of 30%. 
Continual pressure for businesses to be at the forefront of technology has resulted in the IT recruitment market often being heralded as one of the best markets in which to operate. However, with both the lowest gross and EBITDA margin, at 18% and 4% respectively, the data paints a different picture. This sector is dominated by niche specialists, in fact 53 of the 361 companies focus just on the vertical. A consequence of such fierce competition is often the impact on margins as companies adopt aggressive pricing strategies to secure work.
The analysis provides an aggregated view by sector, but it naturally varies significantly on an individual level and by maturity profile. For example, a firm looking to aggressively expand will most likely be in the process of hiring key personnel, but there will be a period of onboarding and inevitably a degree of churn. The company in question is therefore likely to report a subdued profit figure. However, this is not always the case, as increasingly newly formed and highly successful entities are sourcing proven personnel that can hit the ground running. While these individuals often come at a market premium, it can help to create a highly efficient, lean business often with market leading margins.     
UK vs International
Privately-owned recruitment firms with significant international operations continue to benefit from a devalued pound. By billing international clients in local currency recruitment firms have been able to inflate profits. Further, a broader geographic spread helps to mitigate risk in domestic territories.     
In total, 131 agencies reported a breakdown of sales by domestic and international geographies. The data illustrates that for these companies 21% of revenue was generated overseas at an average gross margin of 23%. The constituents are heavily skewed towards the technical and the IT sectors whose client base – by their very nature – have greater international demands and candidates who are very fluid geographically. The gross margin varies significantly between the two sectors though, with the average gross margin for an IT recruiter standing at 20% compared with 13% in the technical recruitment sector. The lower margin in the technical sector is indicative of the ongoing difficulties being felt in the oil & gas sector, which has resulted in extensive job cuts and offshore rigs remaining inoperative.   
M&A
The recruitment industry continues to be one of the UK's most active sectors for M&A. There is a well-educated and well-funded buyer and investor population who understand the overall market performance and its future growth prospects. Buyers and investors will identify the hot sectors with strong underlying fundamentals, recognising that different sectors have different dynamics and growth opportunities, and within those 'hot' sectors the leading businesses of scale. Typically buyers are attracted to fast-growing, high-margin businesses with strong management teams and well-invested infrastructure, and who are able to show a coherent and well-executed growth strategy. 
Outlook
The next 12 months is certainly set to be an interesting period for the recruitment industry, with Theresa May triggering Article 50, and the impending German, French and Dutch elections likely to create uncertainty in the European market and weigh on client and candidate confidence. That said, recruitment firms will welcome news offering clarity on the movement of migrant labour, particularly in those sectors most reliant such as healthcare and construction.