The Big Story: Under the glare of the virus
Recruiter team
17 April 2020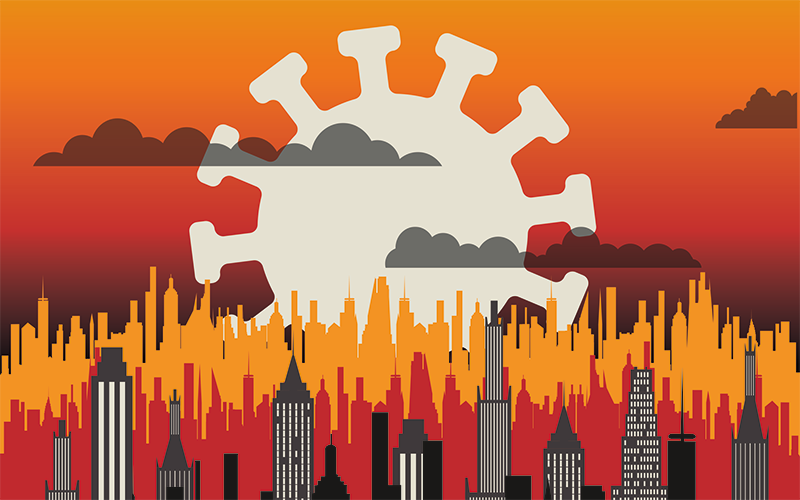 Recruiter shines a spotlight on recruiting and staffing in the current global pandemic. 
Reporting by Colin Cottell, DeeDee Doke, Graham Simons and Vanessa Townsend
Like a meteorite from space, it struck the general UK population with little warning. The UK's first two patients with Covid-19 were identified in York in January; it was six weeks later when initial social distancing measures such as working from home were suggested to avoid spread of the coronavirus and then only a week later when the lockdown across the UK was put in place.
As Recruiter goes to press, new questions and issues around the government's strategy to support UK businesses, employees and the self-employed – along with its healthcare and social care professionals – develop every day. What is true one day, changes the next.
Anecdotal evidence tells us that many agency workers had to be released from work as employers shut down to sit out the crisis. Most recruiters themselves found themselves in the brave new world of working from home.
This is a collection of snapshots of life in the glare of the virus from the world of recruitment – this Big Story is going to be with us for a long time.
Tell us about your experiences: drop us a line to [email protected]
---
Taking the world's temperature
Healthcare recruiters around the world are trying to keep up with the Covid-19 crisis against all odds. Recruiter caught up with some in the middle of a staffing challenge
"It's call after call – clients are crying out for more and more nurses," says Roland Sheehan, director at the TFS Healthcare recruitment agency, in a rushed telephone call.
Sheehan and his team are working seven days a week, and at the same time, 20% of the nurses TFS works with are self-isolating. "We've never seen anything like it," he says.
The spotlight is on health and social care staffing within the UK and elsewhere around the world as the coronavirus pandemic continues to muscle its way through populations at home and abroad.
On 31 March, New York state governor Andrew Cuomo pleaded with healthcare professionals across the US to come to support his state and New York City in particular, which has proved to be the main US hot spot. Once the pandemic has abated in New York, he suggested that visiting healthcare staff might want to take their skills to other stricken communities across the US.
In the UK, the government has moved to extend NHS staff visas. Some expired visas have been extended for three months, and qualified nurse visas expiring this year have been extended another year. Other government support has come in the area of cutting certain DBS check red tape.
At the same time, UK healthcare recruiters are supplying staff to NHS trusts coping with the pandemic. They also are supplying staff across other geographies.
Here in the UK, Joanne Wood, a former nurse who has since become a recruiter told Recruiter that she had never experienced anything like the current medical crisis – even during the Gulf War, which she experienced as a UK-based nurse in her previous career. She described the current situation as "unprecedented".
"One of our support workers assisted the first person with Covid-19 in the North-East," Wood says. In anticipation of the lockdown, Wood's company recruited and trained 120 staff in skills such as Immediate Life Support in four weeks, she says. "We are having enquiries from new clients as to how we can support their business if needed," she said. "We have a lot of staff concerned about self-isolation, and we are offering support and NHS England advice on these matters to ensure staff are available for work." In addition, she said, demand has increased in the last week to fill the same roles on the same wards.
Global pressures
Penny Streeter, MD of A24 Group, an international recruiter with operations in the UK and South Africa, told Recruiter she is working flat-out at the moment with increased demand for services in both countries.
"We are working in completely unprecedented times and while the hospitals in both countries are under huge distress and are actively recruiting back ex- and retired employees, the nursing home and other health sectors are also struggling," she says. Meanwhile in South Africa, Streeter reports the agency's nurses are struggling to get to work "as the famous South African taxis are unhappy about the number of people being restricted in their taxis and they have had their hours of operation curtailed as well", she says.
"There is a basic lack of understanding of how dangerous this situation is, and we are fearful that the pandemic is going to hit the South African people extremely hard, and indeed our first cases have been reported in areas of very low income."
At the Positive Healthcare agency, CEO Olivia Spruce told Recruiter some contractors on her books including psychologists have self-isolated instead of going on assignment. However, she said this has been mitigated by the sheer volume of frontline locums that have registered with the agency.
Cross-border challenges
Paul McQue, MD at Northern Ireland-based MPA Recruitment, has faced the challenge of co-ordinating a cross-border workforce involving two different sets of restrictions – and weathering these challenges well.
MPA has seen a significant increase in demand for its services, especially in healthcare, and within private care home providers and NHS partners in particular.  
"Many of these are for frontline services within hospital environments. Nurses and healthcare assistants and support workers are in high demand, and there's also been a massive call for domestic assistants, kitchen staff and cleaners," he says. And, internationally, after an initial slowdown and pause in early to mid-March, MPA has seen "a large push within perm [permanent] markets, for senior-level healthcare staff, particularly in the Middle East".
"Our staff are coping well from home, and obviously some enjoy this more than others… Hopefully, we can all push through the next two months… with a sense that things are starting to move towards normality," McQue says, "whatever that may look like after this."
---
Healthcare market
Coming back from a "crushing" M&A period, better days could lie ahead for healthcare recruiters, who are much in demand given the current climate, according to Marcus Archer, partner at Clearwater International.
Healthcare recruiters "providing really valuable support to the government, the NHS and the care industry" will be "very well placed to benefit" from the explosion in demand for quality healthcare staff, Archer tells Recruiter. These circumstances "may well lead to M&A opportunities for some of those fast-growing, high- quality healthcare recruitment agencies, who are continuing to see opportunities and demand for their candidates but require some funding support from external sources, which will most likely come from private equity", he said.
"The market opportunity is something that PE teams could get their heads around. We expect to see a number of the larger healthcare recruiters, which are compliant and of a high quality, make a case for PE investment to help support their growth."
He notes: "The last three or four years have been a crushing period for healthcare recruiters. The M&A market has been pretty much non-existent for them, and they've had to deal with both price-capping and IR35 among other factors. From a trading perspective, businesses have had a pretty tough time for three or four years, but the sector has been seeing a pick-up, probably since summer 2019."
With the government expressing negative views on the use of agency staff, the realisation now of a "massive demand" for healthcare staff, which cannot be supplied without support from healthcare recruiters is a significant turnaround in perception and a great opportunity for the sector to support the NHS, he said.
---
Running recruitment remotely
How are recruiters coping with locking their office doors? Recruiter spoke to a number of managers about their experiences
For recruiters used to the close-knit, competitive, sociable and sales-y office environment, and those who revelled in face-to-face meetings with candidates and clients, and for managers used to working check-by-jowl with their staff, an immediate impact on the recruitment sector was clear: a swap of the normal office for the spare bedroom or even the kitchen.
Such a change will have come as quite a shock to the system.
But running remote operations are not unheard of in the sector. What recruiters will have to adjust to, says Martin Jones, managing partner at technology and finance recruiter Knownfour, which was established as a remote operation in 2016, is that there are many aspects to running such a recruitment agency successfully.
For instance, when it comes to monitoring and managing the performance of remote teams, Jones says a tailored approach is needed. Because of the distance separating manager from consultants, there is a danger of overkill of leaders using too many or ill-considered KPIs [key performance indicators] that drive the wrong outcomes. "You have to understand the DNA of someone's desk, and that means understanding the individuals as well as your teams," Jones says.
Of all the measures of performance, revenue is by far and away the most valuable, he says. Indeed, he argues, the fact that it can encapsulate so much makes recruitment the ideal industry to embrace remote working.
"A lot of people are very scared of what is happening at the moment and how they can manage to work from home with the kids around," says Ali Wallace, founder and MD of DNA Recruit, a specialist search and career consultancy for marketing agencies globally, whose business model is built on staff working remotely.  
Parker Young Recruitment: "As a small business, the effects are noticeable but our business and our clients are taking a pragmatic approach. We're using video software to stay connected when working remotely"
Unprecedented times
Not only are recruiters having to adjust to having to work from home but they are having to do so in the unprecedented situation of the coronavirus outbreak, he points out. "A lot of people won't have seen anything this tough," Wallace says. "It's all about TLC and not coming across hard because everyone is going to be stressed out."
He suggests: "Bosses need to have a daily one-to-one with everyone and a regular daily catch-up, so they know what they are doing and where they are going." (See box below, which shows how recruiters are embracing technology to help staff communicate both internally and with clients and candidates.)
At digital recruiter Futureheads, which has moved to remote working, director Jon Wall says that how staff should be managed depends on a mix of factors. "Some people are quite early in their career, and this is the first downturn in the market they have ever worked in, so they need constant reassurance," Wall says.
"Then we have experienced recruiters who might have done really well for a few years, and this is the first time their part of the business has been seriously challenged. They are learning quite a lot; while some people are very positive, they see the challenge and want to provide solutions. So, it does vary, partly based on skill set and experience, and partly due to mind set," he adds.
EllisKnight International Recruitment: "We know this is a particularly challenging, difficult and uncertain time for all businesses. In that line, we are offering a new temporary payment scheme: #RecruitNOWpayLATER"
Flexible leaders
With many staffing companies thrown into operating remotely almost overnight, the key to adapting will be strong leadership, Jones says. In particular, he adds, it will take leaders with a flexible mentality. Although he acknowledges this won't be easy for an industry that for a long time has resisted remote working, "flexibility is what it is going to take", he says. "If people aren't able to embrace it, they are going to find themselves in the weeds."
Wall says managers have a vital role to play: "The biggest thing is trying to keep highly engaged with the team – working very hard so the teams are thinking about what they can control and what is in front of them, and letting the management team worry about what the longer-term management goal is.
"Just do an outstanding job for the clients we have got and if we can take that pressure away from staff, we will worry about what is next."
Home and away
While currently unprecedented numbers of recruiters are working from home, when life returns to normal, it is likely that many will drift back to their offices.
If that is the case, Jones says there is the danger of discord between those allowed to work from home and those not given that same flexibility. "But that is not the deal," he says. "The deal is that you are doing a recruitment job, and you are judged on your performance within that job, not where you conduct your job."
If the perception develops that having this flexibility has to be earned, the danger is a workforce that is split between the haves and the have nots, engendering the suspicion that some employees can be trusted and others can't. "In actual fact, if you don't trust someone they shouldn't be on your team," says Jones.
While some recruitment owners may fear that the upheaval of staff moving to remote working will lead to a dip in performance, with a knock-on effect on the company, this doesn't have to be the case, Jones says: "It is going to depend very much on their ability and their focus, but also how you and your management team can help. Could you help them with their skill set?
"If you do so you may find there is no downshift at all. In fact, in some people you might find you get an uplift in productivity because they feel so empowered."
Lorraine Douglas, founder of rec-to-rec firm Douglas John Recruitment, who supplies recruiters with staff that want to work from home, says performance isn't generally an issue. "If you get the benefit of being able to work from home, then you are going to work as hard as you can because you don't want to go and work back in the office, so the incentive is there."
However, she says there could be a problem when inexperienced or trainee recruiters are forced to work from home because of coronavirus. "That could be quite tricky because they don't know what they are doing; they joined the company working in an office, and suddenly they are at home on their own, and probably won't like it." For these individuals, careful managing and perhaps even hourly calls from their manager may be necessary, she suggests.
Jones agrees that careful management of staff is important, but as someone who worked in a traditional office for 17 years before he began working from home in 2016, he says that some of the concerns about lower levels of productivity are overblown. "My productivity now is as high as it has ever been. I don't have any wasted time commuting, and as a result my home life is more fulfilled as well."
OSR Recruitment Ipswich: "It's business as usual as possible as it can be at the moment, lots of health-based precautionary processes in place but still ticking along. We're only a small team so we have to be really careful but our spirits are still high!"
Keep talking – don't sell
Despite hiring taking a hit across large swathes of the economy as a result of coronavirus, recruiters are not sitting on their hands, but using this time constructively so they are ready for the recovery – whenever it comes.
Naveen Tuli, managing partner EMEA & APACA in the in-house counsel practice at international legal recruiter Major, Lindsey and Africa, told Recruiter: "The number one focus for us at the moment is making sure we are still going out to market to ensure our profile remains high [in the market].
"The key thing has been not to stop what we are doing, [but to] increase the communication with colleagues, candidates and clients. We have somewhat of a captive audience; people are certainly willing to speak more, conversations are more meaningful, and that is a very good opportunity to develop those client relationships."
While he said staff were not going to cold-call the general counsel of a hotelier, for instance – with hospitality just one sector that has been hit particularly hard – to ask if they want to expand the legal function at the moment, "we will speak to them about offering other services, eg. salary advice or interim support, or possibly even assistance on transformational issues.
"In many ways I think it is very positive," Tuli said, "because it is forcing everybody to pick up the phone, do more video conferences and not rely so much on email – getting back to basics, which is always good."
Jon Wall, director at digital recruiter Futureheads, told Recruiter that this was the time for recruiters to show candidates and clients a bit of TLC. "Whether it is offering advice or support, we are trying to go over and above," he said.
"People we know are spending a lot of time with us on the phone because they just want to understand what is happening in the market, making sure that teams know to engage with clients and candidates – even if they aren't directly having a conversation that leads to a placement immediately." At the moment, Wall said "any client is treated like gold dust".
Graeme Read, director of FutureRecruiters, a company that supports recruitment start-ups and an adviser to recruitment businesses, said in the current climate it wasn't about selling to clients. "Just talk to them, talk to them – that is the key thing," he explained. "It is about constant communication with clients and candidates just to let them know you are on their side because when we get through this, and the sun does come out, you will be the first person they contact."
G&J Staffing: "IT'S TIME TO STEP UP! YOUR COUNTRY LITERALLY NEEDS YOU! With the escalating problem of Covid-19, there is a high demand in HGV drivers around the UK. The Hull branch of G&J Staffing are recruiting HGV drivers based in Kingston-Upon-Hull and surrounding areas"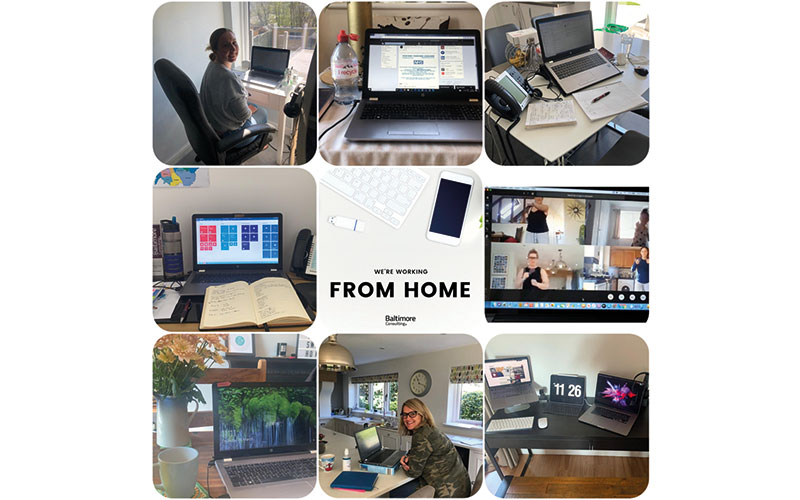 ---
Tech for remote-working recs
Technology is proving invaluable as a way to both carry on business, and to manage and communicate with staff.
Martin Jones at Knownfour sings the praises of a workplace collaboration platform called Wurkr. "It's like a virtual office; you login and you walk into it as you would your actual office, and you are in there all day," he explains.
"It gives staff the ability to see each other… and takes away the suspicion that people are sitting on their couch and watching daytime TV, creating a much more open and comfortable environment for people to work and succeed in."
DNA Recruit relies on Microsoft Teams, a unified communication and collaboration platform that combines workplace chat, video meetings, file storage with application integration. DNA Recruit founder and MD Ali Wallace says his company also holds regular video conferences – including Monday morning meetings – using Zoom, a mid-week catch-up and a wash-up on Friday afternoon.
"We constantly communicate with people, so you actually probably end up talking with them more [than if they were in an office]," he says.  
Ryan Cleland-Bogle, CEO of Tempting Ventures, a company that invests in recruitment start-ups, says that in addition to using Zoom for video conferences, he and his colleagues are using Microsoft Teams to keep everyone updated on what is happening. "It is as much like being in an office as it could be," he says.
Graham Palfery-Smith, chairman of 6Cats International and adviser to several recruitment businesses, says technology is proving particularly helpful in replacing face-to-face meetings that between clients and candidates with virtual alternatives.
---
Advice from the home front
If you are one of those recruiters struggling with remote hiring, here are tips and words of advice from those adept at remote recruiting
Remote hiring is becoming an increasingly popular practice in recruitment. According to recruitment tech company Recruitee, the number of remote hires has increased 140% since 2005.
Less embedded in the industry is remote working. Yet the coronavirus crisis is turning remote working into a way of life. How do previously office-bound practitioners manage to make the transition?
Investing in a doorbell that vibrates on your phone when someone comes to the door, rather than going 'ding dong', is a practical suggestion made by an experienced home-working recruiter to fellow recruiters, many of whom are now working from home for the very first time.
The advice comes from Lorraine Douglas, a remote recruiter herself, and founder of specialist home working rec-to-rec firm Douglas John Recruitment. "If I am on a call, obviously I don't want that constant ringing in the background," she explains. Although Douglas says she had already noticed a steady rise in interest from recruiters who want to work from home over the past 12 months, she says first self-isolation and then government direction to work from home have obviously accelerated this trend.  
Harriet Secker, a partner at technology and finance recruiter Knownfour, who has worked at home for four years, suggests that if there's no spare room to use as an office, a laptop on a table is the next best option. "Avoid sitting on the sofa with a laptop on your lap for any period of time because you will get a hunched back," she warns.
Secker says she moves around during the day, alternating from standing in the kitchen while using a laptop "on the counter next to the kettle until lunchtime", to the kitchen table and an office she has set up in another room. 
---
Tips from the trenches
Structure your day and take regular breaks.
Refine your online conference abilities. People can be uncomfortable on webcam, and locations with bad connectivity mean that it may not even be possible. However, sometimes it's crucial to have distance meetings – it's helpful for team members to let others know if they're planning on 'deep work' for a period of time and reset their available status to 'Do not disturb'.
If working across global time zones, plan your work so that collaborative activities can take place in overlapping hours. Identify key staff so that there is always someone to answer urgent questions and remove blockers.
Separate announcements from discussions in group communications. To keep employees in the know on key company-wide news and updates, have an administrator create an 'announcement only' group for the company. Use smaller groups for discussion.
Dressing up is optional, but take into account your 'audience'. For example, if you're going casual, make sure your favourite t-shirt is clean and that it doesn't have an offensive message.
Even if it is indoors, keep moving, and exercise where possible.
Accept that sometimes life gets in the way of work but look for other opportunities to make up this time.
Daytime TV is a 'no no'.
Think about the equipment, data and information you will now have in your home and how you need to protect it from unintended sight or use.
Have honest conversations about childcare responsibilities. During this crisis, line managers should have sensible conversations with parents and carers of young children about what is and what is not possible for them to achieve.
Sources: BSI, Ellie Ereira & Aly Blenkin of Pivotal Act, Recruitee, WhatsApp, Working Families.