Funding in a crisis
Colin Cottell
17 April 2020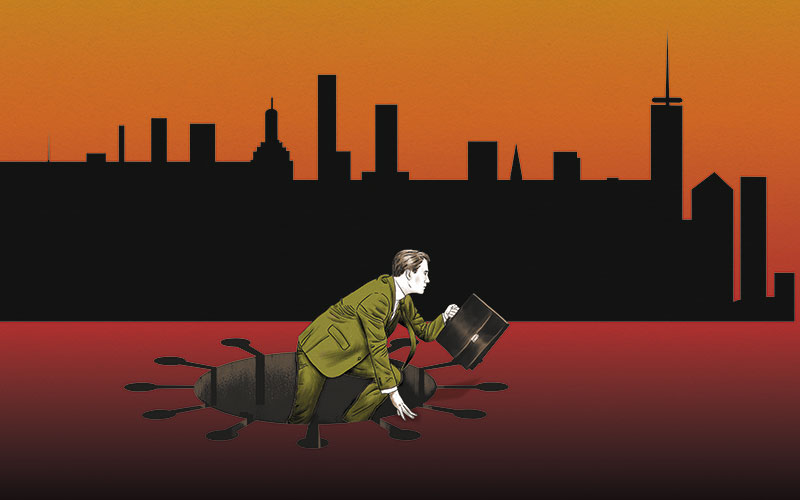 Will agency and umbrella workers miss out on the government scheme to avoid making staff redundant? Colin Cottell finds out
The day after Chancellor Rishi Sunak announced the government's Coronavirus Job Retention Scheme that should see millions of workers up and down the country receive 80% of their normal salary, Adam Holby, managing director of outsourced payroll and umbrella Fair Pay Services, decided to act. "We were keeping an eye on things, so we knew something was coming through; so we were able to pay our workers the 80% of their salary."
While Holby's speedy reaction will come as a great relief to many of the company's workers, concerns have been growing that many agency and umbrella workers may miss out on the scheme designed to avoid employers making staff redundant by paying them a government grant of up to £2.5k a month per worker.
Julia Kermode, CEO at the FCSA (Freelancer and Contractor Services Association) that represents many umbrella firms, says the fundamental problem with the furloughing scheme for umbrellas and agencies is funding. With employers unlikely to receive grants from the government until May, she says this situation leaves nearly two months between umbrellas and recruiters paying out and waiting for the money to come in. "No one want to turn around to a worker and say, 'I can't pay you'," but she accepts "it is possible".
"I hope this wouldn't happen, but I would understand if this was the case," Kermode adds.
Cashflow challenge
Holby admits that having paid out to the workers, "the next challenge is cashflow". However, he is confident that his own company and most umbrellas will cope: "Most umbrellas are fairly rich in terms of short-term cash because you are deducting PAYE and NI [National Insurance] every week, and taking in VAT, and you are paying that out every three months. So, there is always cash in the business, or at least there should be."
In Holby's view, the government's decision to allow businesses to defer this quarter's VAT payment until the end of the year, and potentially PAYE too, will help umbrellas' cashflow and allow more of them to make payments.
As long as an umbrella's whole contract book hasn't been furloughed, Holby says the deductions from the workers who are continuing to work can be used to pay the furloughed employees while umbrellas wait for reimbursement from the government.  
However, for many umbrellas, who pay hundreds of thousands of workers a week, the sums just don't add up, says Kermode. Yes, she agrees they could defer paying VAT, and possibly NI, but she says "these will not be enough themselves". Compared with normal businesses, where workers are PAYE and paid monthly, recruitment agencies and umbrella firms' payroll costs are huge. "When we start to think about the figures, there is a huge gap," she says.
Stewart Roberts, commercial director of Total Back Office Solutions, says recruitment agencies have a tricky decision to make as to whether to make payments to contractors, who are no longer on assignment because of coronavirus. "If it is going to put your business under too much cashflow strain, then it is obviously not worth paying the contractors if that causes your agency to eventually go bust."
The first recruiters looking to furlough their agency workers are those in the public sector, including teachers, Roberts says. "In other sectors, it is dependent on the agency, and whether the candidates are skilled or unskilled, and whether they want those candidates to continue on their books and working, and when the situation finishes, how easy it will be to find those candidates again. It's a balance between loyalty to their candidates and the agency's survival."
Unanswered questions
There are many still unanswered questions about the scheme that will sew enough doubts in the minds of recruiters that they may decide not to take the risk. "What happens if you pay candidates for two weeks and then run out of cashflow? Does that mean that you can't reclaim the two weeks from the government?" Roberts asks.
If this is the case, he suggests, companies will need to make sure they have at least three weeks of furlough money available. Roberts says some agencies his company works with are switching their payments to three weekly so that it is in line with the scheme's payment timetable.
Amanda Hobson is managing director at Easypay Services, a company that funds recruitment agencies based on the value of their invoices and then runs their payroll. She says there is still confusion about the furloughing scheme. For Hobson, the big question is, if her company pays the agency workers, will the company then be able to claim the money back from the government? "If we are going to fund this in the first place, we need to make sure there is some authority given to us as an agent to allow that money to come back to us."
To get around this problem, she says, her company has put together a side contract that stipulates the agency must notify HMRC that it [Easypay] is the payee of any grants, and that if the agency doesn't notify HMRC, they must remit those funds to Easypay immediately.
Another issue that was unclear as Recruiter went to press is how much workers on the NMW (National Minimum wage) receive from the government, given that 80% would take their pay below the legal minimum.
Other avenues
Faced with a situation where many agencies are not receiving their usual income from clients, Roberts says some agencies are turning to external funders that might allow them to pay their workers under the furloughing scheme. He says one agency is considering an Enterprise Finance Guarantee loan that would top up the funding they receive from their invoice finance company.  
Other recruiters are relying on their existing invoice finance companies, although he says any recruiter looking to raise finance in this way for the first time is likely to find it difficult now. "The invoice finance companies like to meet people to make sure they are who they say they are – something that isn't possible at the moment," he explains.  
Other sources of funding that might allow recruiters to pay their furloughed workers are also problematical, says Roberts. "A few of our agencies are going through the application process for the new Coronavirus Business Interruption Loans [CBILS], but it seems a bit of an arduous process, and so far, I don't think anyone has been paid out."  
Kermode says most umbrellas won't qualify because their turnover is too high, while others won't qualify for the support announced for bigger companies because credit agencies don't rate them as investment grade.  
And as for holding off paying their workers until they receive a grant from the government, Kermode says that given the scheme is designed to reimburse employers this is not an option.
While the job retention scheme and other government measures should help millions of workers, with recruitment agencies and umbrella firms caught between doing the right thing and threatening the viability of their businesses by doing so, without significant changes to the government's package of support the odds are that many of their workers will miss out. 
---
Covid-19 job retention scheme
All UK employers can apply to HMRC for reimbursement of up to 80% of employees' wages, up to a cap of £2.5k per month (whichever is the lower). This covers wages payable from 1 March 2020 and the associated Employer National Insurance contributions, and minimum automatic enrolment employer pension contributions.
This scheme is for those under PAYE, including agency workers, umbrella workers and zero-hour contract employees.
To be eligible, workers must have been on your PAYE payroll on 28 February. However, it is still unclear whether those employed by you, but who weren't actually on assignment on 28 February, have a contractual right to furloughed pay.
The minimum period a worker can be furloughed is three weeks.
Fees, commission and bonuses cannot be used in calculating the wage cost.
Employers may if they wish top up the worker's wages to their normal level.
Employees on sick leave or self-isolating should be paid Statutory Sick Pay.
There is no contractual right to be furloughed. It is the agency's or the umbrella's right as the employer to offer it.
Got to get the consent of the worker first.
Image credit | Ikon