Sponsored: What you need to know about the Google Mobile First algorithm change
Access Group
25 March 2021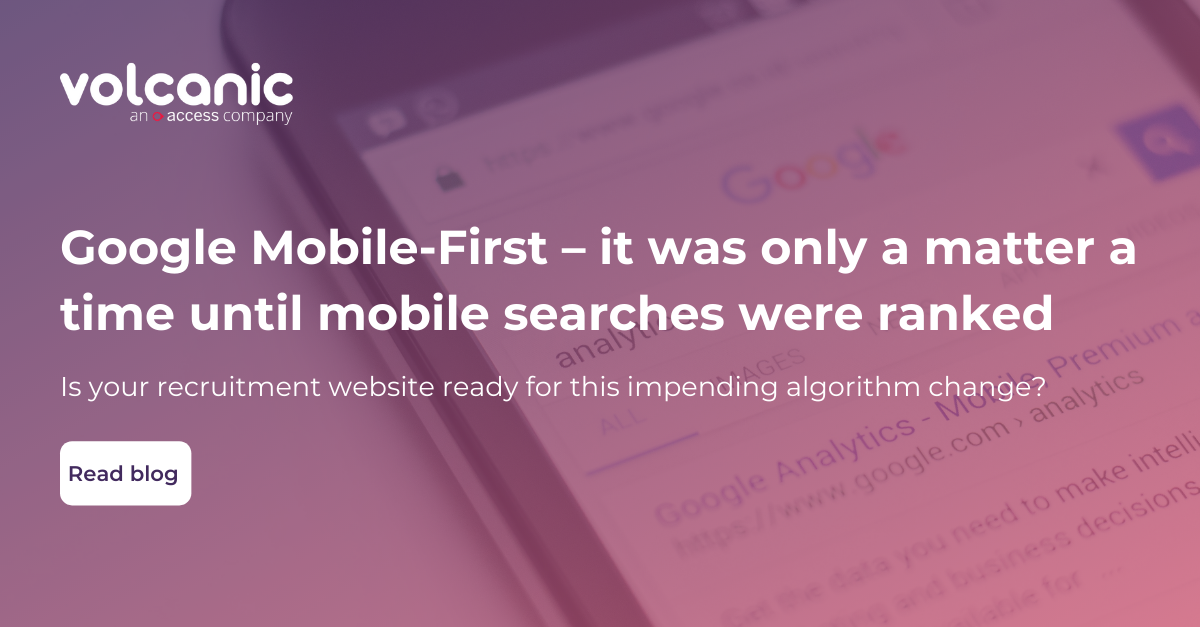 The days of designing websites specifically for mobile are over. Meanwhile, the days of recognising the consumption of information on the move are here, with a new heightened level of importance. A forthcoming Google algorithm change will rank websites on the performance of their mobile search. And what Google wants, Google gets.
52% of Google searches now come from a mobile device, yet to date their ranking system has only analysed desktop search requests for relevance without taking into account mobile search. The Google Mobile First change will seek to provide balance and equality of performance across all platforms and your website will be penalised if you don't provide an optimum experience.
How should recruitment marketers respond?
With recruitment agencies now leaning heavily on their online presence and capturing candidates' attention 'on the move', being prepared for the change in late March is key.
If you have a responsive website where the content – images, copy, video – is consistent across mobile and desktop, you won't need to change anything.
If you have a site designed for desktop, you won't need to alter anything – Google will rank as a desktop site. (However, you will be missing out on the larger share of searches that are now conducted via mobile devices).
On the other hand, if your content differs markedly between mobile and desktop, you are at risk of penalty from Google.
Instigate an evolving plan to ensure your website stays compliant helping you attract both active and passive candidates.
What do you need to do now to be Google Mobile First ready?
There's some key actions for recruitment marketers:
Ensure the content you want to be ranked for is mirrored on desktop and mobile
Check all images and videos are good quality to avoid your site being ranked down for poor quality images
Add alt-tags to your images and be specific with keywords on the alt-tags
Put the same metadata on both versions of your website
Think about image and video placement on your website so mobile viewing is optimized and not compromised.
Google's Mobile First change comes on stream in late March 2021. For a full breakdown, read more information here.
For assurance, Volcanic's SaaS platform is prepared for this incoming change meaning our customers are well covered. By using Volcanic's SaaS platform and being on our most advanced platform your website continues to perform. All Volcanic sites are built are mobile optimised and will embrace the change offering customers peace of mind that this has all been taken care off by us. This is just one of the many benefits of being on our SaaS platform. You can find out more here about our beautifully designed, high performance websites here
To request your free website audit to understand how your current website is performing, click here
Twitter: Volcanic (@volcanicuk) / Twitter
LinkedIn: LinkedIn