Special Report - Abatec Recruitment undergoes an MBO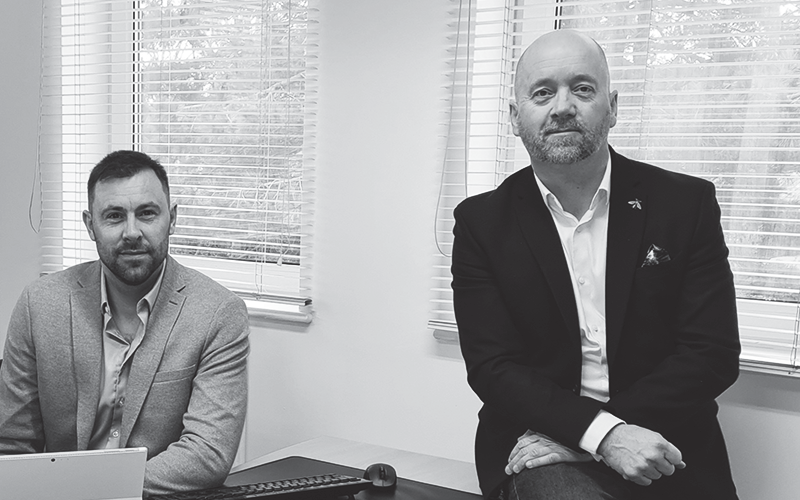 Know your business inside out? You still need help and expertise to structure an MBO
Richard Buchanan (above, left) and Rob Dyer (above, right) received their largest-ever present just nine days before Christmas Day in 2020. Although this was a gift that they had paid for themselves (with some financial help), the pair hope to see it giving back in abundance over the years to come.
The present to themselves was Abatec Recruitment, where Buchanan and Dyer had each worked for 20 and 15 years respectively. They bought the construction, engineering and industrial recruitment company from their boss, the then managing director Philip Davies, with the deal signed on that fateful day in December.
Three days later, Buchanan, Dyer and the Abatec staff bid Davies farewell with "tea, sandwiches and a few beers – and that was it", Buchanan recalls. "From that point, it was ours. Realistically, nothing huge happened in those dead Christmas weeks, apart from Rob and I painting the office, but really from 4 January that was it, and then the new business plan was implemented."
A brief history of this management buy-out: solid plans to carry out the MBO came about last summer, when the first wave of the Covid-19 pandemic had eased, and the mood of the country had lightened somewhat. "We decided that it was the right time to approach the former MD and say to him: 'What do you think? Can we accelerate your long-term plans, and can we make you an offer that we could all be in agreement with, and effectively buy your shares?'," Buchanan says.
The pandemic played a secondary role in the decision to propose the MBO last year, Buchanan and Dyer say. "We did bring it forward a couple of years. Covid probably accelerated it, but it was really a combination of things," says Buchanan.
"We went to him [Davies] initially with something, and he came back to us saying: 'I'd accept it if the deal looks like this.' So, we undoubtedly ticked the boxes that he wanted, to make an exit."
Assisting the 'two peas in a pod', as some have described Buchanan and Dyer, were Jo Bligh of Thinking Legal and Neil Denniss of Bespoke Tax Accountants. They had met Bligh a few years back, and a business consultant acquaintance recommended Denniss. Buchanan and Dyer met with three different tax accountant firms before they chose Denniss. "We wanted somebody to hold our hand, because we're neither accountants nor solicitors – so we were in no position to take a lead on it," Buchanan explains. "We relied on them 100%."
Both men knew the Abatec business inside and out and, of course, understood the industry sectors they served and how to manage in a recruitment operation. However, what they did not have was the expertise to either structure an MBO or understand the very detailed contracts that had to be crafted to meet all parties' requirements.
"There were a couple of things we had limited knowledge about. One was how would the deal look, pre, or up until the point of sale, and post-sale; and how it's structured, and how it was structured in line with the profits of our business. This was all new to us."
While the specifics of the MBO cannot be disclosed under the terms of the arrangement, Buchanan and Dyer can say that they had to come up with "a large sum of money up front to be paid on the day of completion. That sum of money, as representation of the total deal, was about 40%. And the rest of the payments were structured for the remaining term of the MBO."
Buchanan says: "Again, having had no prior experience, there's no way we would have known this. And the other clever stuff is, when you utilise a tax specialist, they are able to utilise the money in the best way to, one, benefit us; and two, benefit Phil, the outgoing MD.
"We would never have had any of that. In reality, we couldn't have done it without those two holding our hands."
Buchanan and Dyer had to come up with two large sums of money separately, which they had to finance themselves, "and it doesn't take a rocket scientist to figure out that our piggy banks only went so far", Buchanan says. They leveraged their properties and "begged, borrowed and stole" to come up with the necessary amount, he adds.
Dyer even sold his home to bulk up his contribution. "When you've worked in a business – which for Richard has been 20 years and me going on 15 – there's a big emotional attachment to the place," Dyer says. "It almost feels as if it's yours already."
Once the deal was signed, the two embarked on their business plan to make the business truly their own. One of the first items on the agenda was to refurbish and refresh their Weston-super-Mare offices with a glass-walled board room, new windows and paint, and by removing the cubicle walls that had made the premises seem closed in. "Just the aesthetics of the building, how it worked," they say. Buchanan and Dyer did much of the work themselves.
"We have pretty much worked ourselves into the ground over the past three or four months, since Christmas," says Dyer.
Also, on the 'to do' list was relaxing the company's somewhat old-fashioned dress code that demanded ties and jackets for male staff and similarly formal attire for women.
Changes to staff pay, terms and conditions were introduced early on to reward their employees better, along with new technology and types of forecasts.
Yet the biggest challenge they faced in the earliest days was helping their staff to "try to settle the
company down – very much selling and implementing the business plan", says Buchanan. "Bear in mind we have 330 temps [temporary workers], a big support workforce here at head office. There was quite a bit we had to rein in, and ensure that everybody was comfortable with what we've done and what we're doing."
So far, say Buchanan and Dyer, the feedback has been positive.
At the same time, the pair now believe they took on too much too early in their tenure as company co-owners. "We'd definitely say, don't take on as many challenges as we did. The office refurbishment itself was a major challenge. And you combine that with taking care of the customers, ensuring all the departments are working properly, that everyone's getting paid properly – it's a big challenge," Buchanan iterates. "Rob and I are pulling long shifts: six- and seven-day weeks."
Dyer compares the MBO and the aftermath to giving birth. "There's a newborn baby and you want to take care of it," he says.
Yes, the company is 30 years old and is tried and tested, Buchanan says. "But because we're bringing [it] back," he explains, building up the company again from a very low trading point [last year] to where we are today, that's taken a mammoth amount of effort."
---
Abatec
Abatec Recruitment is part of Abatec Holdings, formed in November 2020.
Offices: Weston-super-Mare (head office), Bristol
Primary areas of operations: South West England, South Wales
Sectors: Construction, engineering and industrial recruitment Turnover: £12m
Staff: 21 (head office), Bristol (3)
In hindsight: "We thought we read the contracts many times but I would have read them twice as many times; there is so much information to take in." – Richard Buchanan