Special Report - Current recruitment start-up landscape
Dean Gurden
27 September 2021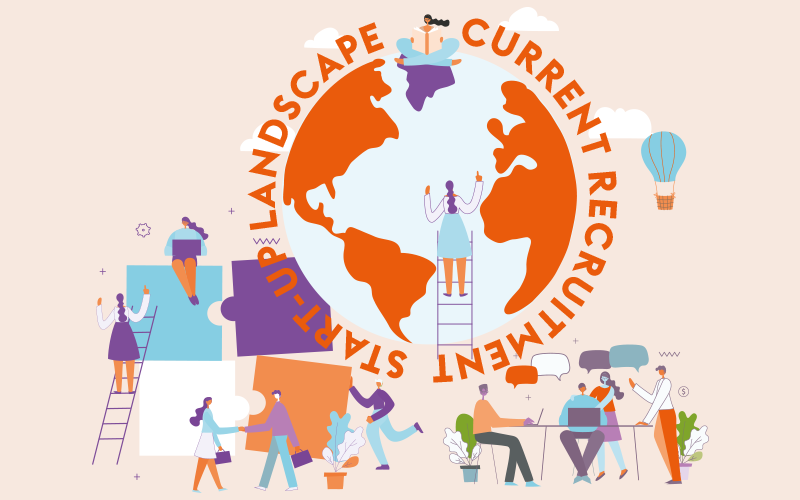 When is the right time for recruiters to start a new recruitment business?
It's hard to think of anything good coming out of the pandemic, but as the world slowly attempts to right itself, it's worth asking what kind of environment it has created for recruitment start-ups and whether 2021-22 is a good time to go it alone.
Paul Jacobs, co-founder and director of Jump Advisory, gives an unequivocal 'yes'. "We're seeing and will continue to see a huge number of start-ups, not just in our own industry but across every single industry sector," he says. "It's a brilliant time to set up a new business because we are already coming into one of the fastest economic recoveries that this country has seen since World War II. Employers are coming back strongly and trying to make up for lost time and lost profits. They're scaling up and taking on more staff."
Jacobs himself set up and launched Jump Advisory, a management consultancy business serving the recruitment sector, last September during the height of the pandemic and has been in business for about 11 months. " 'If not now, then when?' is the cliche doing the rounds," he says. "We're seeing a lot of movement in the labour market. People are looking for new jobs to feel secure and safe, and, of course, you've got the continuing Brexit situation with a shortage of staff across multiple sectors."
According to Joe Davis, founder of Recruitment Start-up Services, it's the shift to online that has only been heightened by the pandemic that is working in favour of the small, nascent operator. "The current economic climate has made every company, both large and small, think long and hard of ways in which they can reduce their overheads," he says. "Top of their agenda is finding and utilising a more cost-effective recruitment service instead of paying the exorbitant fees charged by traditional high-street recruitment agencies."
For Davis, operating a home-based recruitment agency that generates high-profit margins, even after reducing the fees charged to clients, coupled with minimal overheads and low running costs, allows recruitment start-ups to undercut and even take business from well-established recruitment companies.
The current economic climate has made every company, both large and small, think long and hard of ways in which they can reduce their overheads"- Joe Davis, Founder of Recruitment Start-up Services
It's definitely a good time to strike out on your own then, but you need absolute self-belief, warns Alex Niarchos, investment director at Recruitment Entrepreneur, a provider of recruitment business funding. "With roughly 9,000 recruitment companies set up at Companies House last year, you've got to completely believe in what you're trying to achieve, and that you can effectively generate your own income and business, because there are just so many others out there trying to do the same thing," he says.
Admittedly, trying to find something that's completely distinct and different is virtually impossible in such a mature industry, so it comes down to details and content. Do your research and focus on specifics, advises Jacobs. "Look at opportunities where you're specialising; where you're providing a real, expert, deep experience; where you can find candidates who are in demand and capable of doing work in very specific spaces. It's the old cliche of operating about half an inch wide and a mile deep."
Niarchos couldn't agree more, believing that sector-specific offerings are without question a faster way to generate returns. "You often get higher fees in those markets and, because they are more niche markets, they are obviously harder for clients to find candidates for themselves, and therefore represent an opportunity to outsource that provision to a recruiter," he says. "Where you've got generic offerings –and they do exist, and people still do make money from them – the reality is that they are lower-fees-higher-volume-type opportunities."
As for which specific sectors currently offer rich pickings, it's simply a case of take your pick, bar the obvious likes of aviation and travel hit hard by the pandemic. As a funding provider, Niarchos admits to being approached from just about every sector. "We're very key keen to engage with all markets, but obviously recruitment in life sciences and medical, and supply chain and logistics are some of the areas where we're seeing particularly fast growth. Interestingly, hospitality at the more senior end is also recovering quickly," he says.
In trying to keep us all working from home through various lockdowns and office closures, the last year has undeniably been driven by technology, which has also created a very active sector, says Wendy McDougall, CEO and founder of recruitment and marketing platform Firefish Software. "You've also got a big drive on renewables again with the G20 conference coming up," she adds, "and biotech's doing exceptionally well."
But McDougall adds a cautionary note: "A good recruiter has to know their sector and their niche to survive. So don't jump at something without thinking. This is an industry that you've got to make your own for the next 10 to 15 years that you're in business, so you've got to enjoy it. That's more important than just picking a sector for the sake of it."
With roughly 9,000 recruitment companies set up at Companies House last year, you've got to completely believe in what you're trying to achieve"- Alex Niarchos, Investment director at Recruitment Entrepreneur
Ask Jacobs about viable sectors, and he agrees that almost everywhere is experiencing huge growth, but believes the bigger question is where the candidates are going to come from. "We are in a candidate-short market and that's not going to change anytime soon," he says. "Every recruitment business, large and small, is being challenged by finding enough candidates to fulfil the requirements of their clients." And let's not forget that the new recruiters themselves may face difficulties sourcing their own staff as they scale up in such an environment.
What there isn't going to be is a shortage of other start-ups looking to get their slice of the recruitment pie. Whatever sector a start-up is planning to target, many competitors will already be vying for that space. Running a business clearly isn't for the fainthearted, but as Jacobs says above, if not now, then when?
---
Case study: Talent Today
Gary Wills is well placed to talk personally and authoritatively about the start-up landscape, having launched his own recruitment company called Talent Today in November of last year. His business fast-tracks the recruitment process by shortlisting and video-interviewing candidates for IT programmes of work.
Not everyone was urging him on. "I had a few people telling me to ride the storm out, go back to my employer and just take the money," he says. "But for some reason I just felt that if I could make it in the worst of times, then I could make it anytime. So, I decided to hand my notice in and just go for it."
Wills admits to spreading his net a bit too wide at the outset. "We went quite generic in terms of our target audience to start with, but now I realise how important it is to occupy a niche, which is why we're exclusively specialising in the IT project delivery world now."
However, he did do his homework in terms of what he felt was lacking in the recruitment market and the value-add he could bring. "I looked around and found it was a very cold experience on the video side of things," he says. "Candidates were being faced with automated questions, with recruiters interviewing candidates but not actually being there present. We conduct true in-person interviews rather than have impersonal prompts on a screen. I think a lot of recruiters say they do video recruitment, but it's quite a lazy form of it."
He also decided to go after the IT project delivery space after having noticed there had been no activity in this sector for a good 12 months. "My thinking was that there's always going to be a need for digital transformation or business change, so although companies weren't spending initially in the pandemic, I knew they were going to start spending at some point."
And what advice would Wills offer anyone else thinking of going it alone at this time? "You've got to ask yourself if you can truly get new business in your current market," he says, pointing out that many people striking out from their employers will also have non-compete clauses in place prohibiting them from sourcing particular clients for a time. "You've got to be able to answer the fundamental question of why would people want to work with you. What makes you different?"
Also make sure that you have a runway of cash, he counsels. "You've got to have at least six to nine months of money in the bank to be able to pay yourself, your family and your mortgage, because the cash doesn't come in straightaway. If you can remove the financial pressure and can give the business your all, you're more likely to succeed."
---
Image credit | Shutterstock