Workplace revolution
Rachel Masker
8 March 2022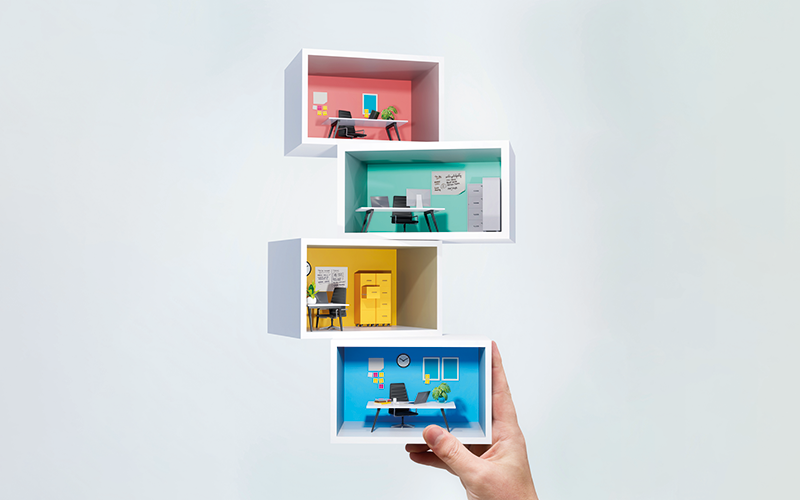 Companies are thinking twice before being locked into a traditional office lease after lockdown, so are flexible workspaces the solution?
The pandemic revolutionised how we work in the UK. Almost overnight, working from home became widespread. For some, remote working ended a miserable daily commute and enabled a better work-life balance. For others it meant juggling conference calls with childcare.
The end of January marked the official end of work from home guidance in England. Few are expected to return to all week in the office. Instead, businesses of all kinds are embracing the 'hybrid' approach, working from both home and office.
As company bosses review and adapt to this new reality, it's clear that offices offering agility and value are increasingly attractive. In the raging debate about the role of the office post-pandemic there is a strong case for considering flexible workspaces.
Hybrid working: the new post-pandemic normal
While home working has many benefits, numerous studies show it has downsides too. It's perhaps no surprise then, most businesses and individuals prefer a mixture of home and office working going forward, according to a government survey on the future of homeworking, published in May 2021. Very few bosses (2%) reported they were not expecting their workforce to return to the office at all. There was some uncertainty among businesses, however, with 32% unsure what proportion of their employees will be at their normal place of work in future.
Overall, the main advantage of remote working was a better work-life balance, the survey showed. Another positive was less time taken to complete work. Meanwhile the main disadvantage was a feeling that it was harder to collaborate. Millennial and Gen Z workers, aged 16 to 29 years, were less likely to give homeworking a thumbs-up than older workers.
The decades-old trend towards bigger offices in taller buildings is likely to be replaced by a focus on smaller workspaces, according to research by KPMG. Potentially, this could free up space for more businesses to relocate teams in previously expensive and crowded locations, albeit for fewer than five days per week.
Corporates could start to spread their offices around the country, putting workers in smaller offices in commuter belts or even apartment buildings, say analysts. Meanwhile big cities, such as London, Birmingham and Manchester could become regional hubs and attract even more workers.
Innovative timeshare office space
Jon Dweck, CEO and founder of recruitment specialist POD Talent, believes a cost-effective solution is hybrid office timeshare agreements. Together with co-founders Rich Fine and Keith Lomas, he is launching SpaceThreeTwo, believed to be the first timeshare office marketplace.
When the online platform goes fully live this summer it will work in a similar way to Airbnb which has disrupted the landscape of hospitality with millions of listings worldwide. SpaceThreeTwo will connect companies seeking places for hybrid working with office space providers. Dweck said: "We believe that adopting a fixed hybrid model, all in on the same days, is the key to striking the right balance for businesses and staff."
He added: "As well as full-time offices, our marketplace offers access to offices available for between one to four days each week. This is an entire office for exclusive use of an individual business on set days of the working week. And because all staff come in on the same days, it improves work-life balance for staff while maintaining a sense of culture and collaboration."
A 'clean desks' policy and secure storage are part of the deal. Firms only pay for the days they need in the office rather than leaving them empty, cutting costs. The minimum term will be six months.
Initially, listings will all be London-based but the goal is to expand into other cities and towns across the UK and then globally within two years, said Dweck. Businesses in the capital alone waste an estimated £21bn on empty office space, according to his company's research.
Flex space options
Flex space is designed to give businesses more freedom and value. From a single hot desk to roomy offices, you skip the long lease; minimum of three years, more often at least five. Offices come fully furnished with free WiFi, security, cleaning and maintenance. And all the rent, bills and rates are included in one all-inclusive price. The serviced or flexible office is seeing increased demand, according to a survey by Savills. The estate agent reports that 75% of landlords are expecting their tenants to seek more flexibility from their lease agreements in future.
Flexible office space was already a trend which the pandemic accelerated, according to Will Abbott, chief customer officer for Workspace, the largest provider of flex space in London, with buildings in 60 locations across the capital and plans to buy more.
During lockdown most flex space providers took a huge hit. Workspace lost 10% of its customers. But Abbott is bullish: "We are pleased that this trend has now reversed, and we are seeing more customers expand than contract, as well as increased demand which means our occupancy is recovering well."
Asked if the office is dead or just different, Abbott said: "The office is alive and well. But the way businesses choose to use their space has undoubtedly changed. Rows of desks are being replaced with meeting rooms, phone booths for private video calls, breakout areas and more social space."
Abbott said Workspace had seen enquiries from recruiters more than double over the last two years. "Some things are just better done face-to-face. Work should be a place where teams meet to collaborate, and support and train new joiners and those starting out in their careers."
The office is alive and well. But the way businesses choose to use their space has changed
New kid on the block Fora, with 15 venues in London and Reading, and plans to open more in Oxford and Cambridge, promises to "elevate" the work experience and drive productivity with premium facilities and hotel-inspired hospitality. Fora offers both single desks in co-working areas and office suites. Open 24/7, shared office amenities include off-street cycle storage complete with tyre repair kits along with showers with toiletries and fluffy towels. Fitness and meditation classes to boost mental and physical wellbeing are available too.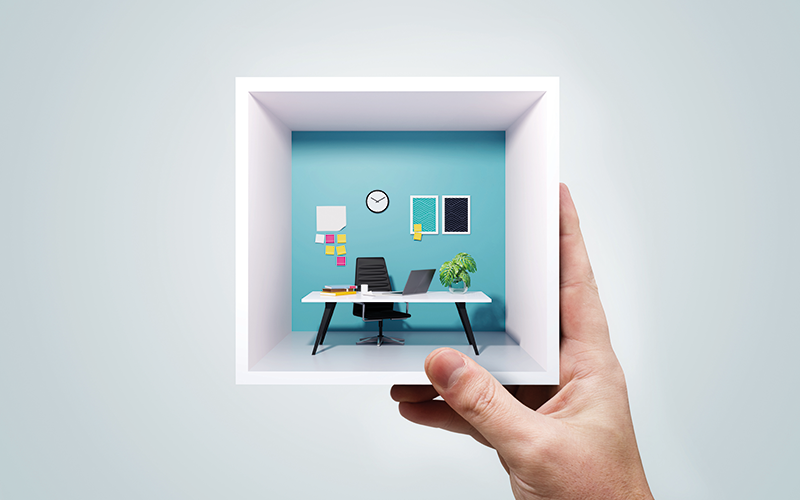 LABS workspaces, with 11 buildings across London, has launched a similar offering with day passes from just £25 for a spot at an open-plan desk in a communal, coworking area. The company also provides serviced private offices, suitable for individuals or large teams. Member perks include preferential rates to gyms, free tea and coffee, biscuits and fruit. Pets are even allowed.
Some landlords are transforming traditional offices into flexible workspace. For example, infinitSpace, a European flex space provider, has launched its first London location in Aldgate Tower, owned by Brookfield Properties. The 16-floor glass building offers coworking and private office spaces, all with flexible terms.
Wybo Wijnbergen, CEO of infinitSpace, said: "Since the pandemic, flexible working has become the norm for many businesses. This means they need flexible spaces to work in – that can be accessed around the clock, are optimised with technology and provide an exceptional experience to inspire people to travel to work."
Property consultant Anthony Lorenz, whose business is 80% traditional offices, has seen a rise in demand for flex space. His firm Lorenz Consulting is working with a range of companies looking to downsize but also to move to premium facilities. Latest must-haves include high spec air ventilation systems, ultra-fast WiFi, showers and a high EPC (Energy Performance Certificate) rating.
Traditional offices are more cost-effective in the longer term than co-working or flexible space, said Lorenz. "Flexible workspace is at least 20% more expensive than traditional office space. A lot of tenants who go into flex space don't realise how much the extra charges will be." Plus, the longer you sign-up for a lease, the larger the potential rent-free period you can negotiate.
A recruiter moving to a flexible workplace from a traditional office is likely to pay a higher price per sq ft. However, the HQ-standard amenities provided by some flex spaces might attract and retain talent. Factor in hybrid working timeshare or no business rates or service charges and the value is clearer. And with rapidly evolving work patterns, not being locked into a long lease is a big bonus.
Image credit | Istock