Sector Barometer shows signs of optimism for industry
Sector Barometer shows signs of optimism for industry
16 April 2018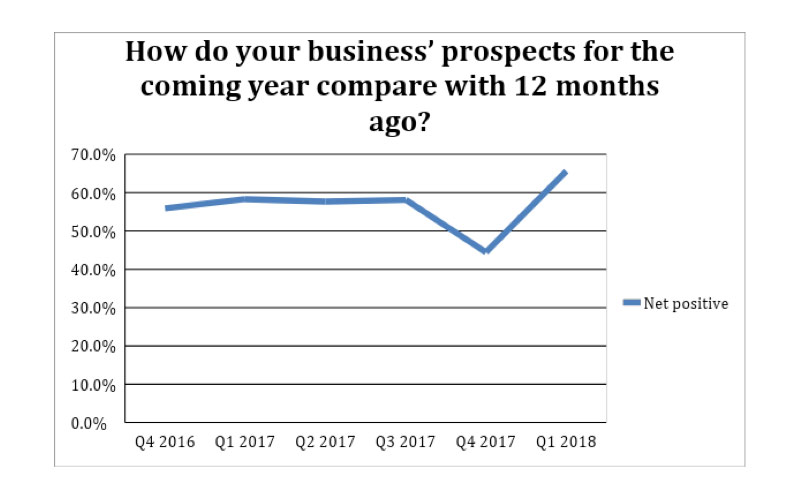 Most recruiters are hitting or exceeding their targets, according to the latest Sector Barometer.
While the Barometer, produced by Alex Arnot, non-executive adviser to more than 20 recruitment firms, in association with Recruiter, shows industry 'optimism' (ie. prospects for the coming year compared with last year), 'plans to grow headcount' and 'expected year-on-year profit' are all down on Q1 2018, they are nonetheless better than they were in the last quarter of 2017.
Executive search is performing strongly with (net) almost two out of three executive search teams expecting to outperform the same quarter last year. On the flip side fewer than one in three (net) have similar expectations for their temp teams. 
The number of respondents citing rising overheads as a top three concern hit a record 23%. However, a record three-quarters of respondents cited a shortage of candidates as their top concern, and net 27% of firms noted an increase in hiring process times. Combined, these two elements highlight how important it is for recruitment companies to spend time developing new business, giving them the chance to cherry pick clients who are more likely to result in a hire.
With a steadily increasing percentage of firms experiencing rising debtor days it is good to see that a record 33% now have higher average fee rates than they did a year ago – however, 55% have not increased fee rates in the last year and 9% have seen them fall. 
Although this is the second lowest level of optimism to date, nonetheless 50% of respondents (net) are more positive about their business' prospects for the coming year compared with 12 months ago.
With a shortage of skilled consultants still one of the top three challenges, net 56% of recruitment companies are nonetheless expecting to increase headcount in the coming quarter. 
Net 55% of respondents expect net profit for the coming 12 months to increase against the previous 12 months.
And 55% of recruitment firms hit or exceeded their revenue targets last quarter, with 40% missing their targets and 5% not setting targets.
A record 24% of respondents say they have upped their fee rates in the last year – the 76% who haven't increased their fee rates in the last 12 months should be trying to do so!
Almost a quarter of respondents have noticed recruitment processes slowing down in the last quarter – a real indication that recruitment firms should be doing more business development in a candidate scarce market. 
While the year-on-year performance of executive search has been steadily increasing (net 61% expect next quarter to outperform the same quarter last year), the temp market remains volatile, with a record low of net 29%, down from 47% at the last quarter. It will be interesting to whether this trend continues next quarter or whether figures rebound as they did in Q3 2017. 
For the first time since the barometer began in Q1 2017 fewer than 40% of respondents cited economic conditions/uncertainty as a top three challenge. The shortage of candidates has hit a new record level at 76% and this may get worse following GDPR. There has also been a sharp rise in the number of respondents citing the cost of overheads as a top three concern. For the second quarter in a row there has been an increase in the number of firms citing a shortage of consultants as an issue.
Other challenges added by respondents to the free text field:
Complexity of contracts especially GDPR related
GDPR (x3)
Government regulation
Quality of candidates (x2)
Time to hire of clients/response times with regards selected candidates
Getting our brand into the market
Internal recruiters (x2)
Margins pressed by smaller agencies and larger ones
Contract finding in local or international 
Client communications being poor, meaning it takes longer to fill vacancies assigned to us and/or good candidates find something else
Government legislation and interference
Payment
Business development
Identifying the best technology in order to increase productivity
RPO and their lack of engagement
• Comment below on this story. You can also tweet us to tell us your thoughts or share this story with a friend. Our editorial email is [email protected]