Average tenure of agency staff increase
Average tenure of agency staff increase
20 June 2019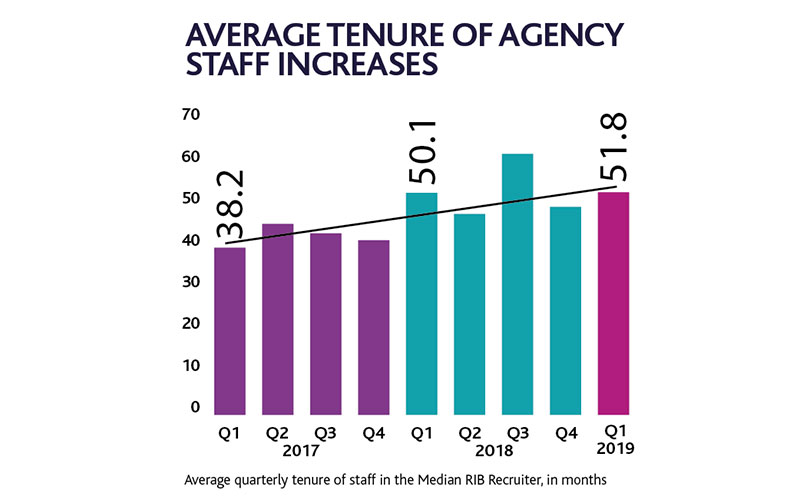 The latest information from Recruitment Industry Benchmarking's RIB Index shows that the average tenure of staff working for the median industry recruiter continues to increase. In Q1 2019, it was recorded as 51.8 months – or around 4.3 years.
Set into historical context, the average tenure of median RIB recruiter staff across 2017 was 40.8 months (c. 3.5 years) whilst across 2018 it averaged 51.0 (c. 4.25 years).  In contrast, the average tenure in lower quartile RIB recruiters was 37.3 months (just over 3 years) – up from 29.5 months (c. 2.5 years) in 2017, but down from 41.8 months (c. 3.5 years) recorded last year. And amongst RIB recruiters in the upper quartile, the average tenure was 66.9 months (just over 5.5 years) in Q1 2019, up from an average of 58.4 months (just under 5 years) across 2017 and 60.0 months (5 years) in 2018.
Belinda Johnson runs employment research consultancy, Worklab, and is Associate Knowledge & Insight Director of Recruitment Industry Benchmarking  (RIB). The RIB Index provides bespoke confidential reports on industry benchmarks and trends. See www.ribindex.com; [email protected]: 020 8544 9807. The RIB is a strategic partner of the REC.