Award gave 'Most Inspiring Newcomer' winner such confidence & credibility
Award gave 'Most Inspiring Newcomer' winner such confidence & credibility
Roisin Woolnough
12 July 2019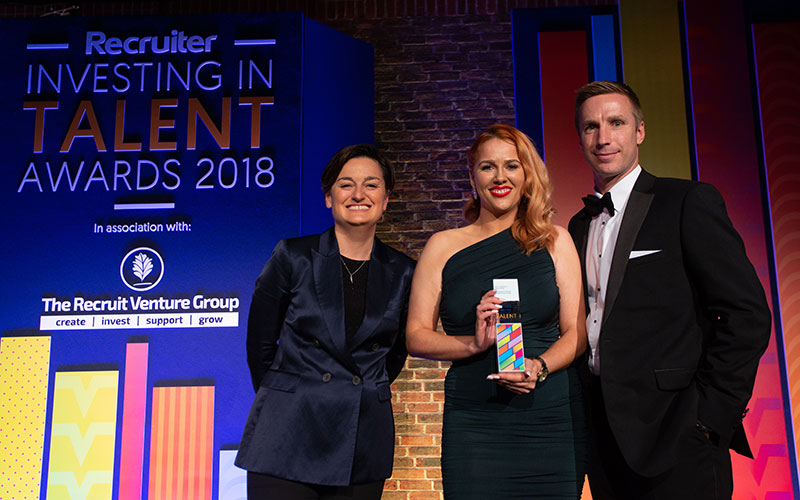 There is no better feeling than being able to introduce yourself to candidates and clients alike as an award-winning consultant.
So says Catherine O'Beirne (pictured collecting her award from Zoe Byrne and Recruiter publisher Aaron Nicholls), who didn't expect to win 'Most Inspiring Newcomer' at Recruiter's Investing in Talent Awards last year, despite the fact she broke her company's record for first year billings.
O'Beirne revealed that even though her managers believed in her and encouraged her, she still lacked confidence in her abilities. However, since picking up her Award, everything has changed. "Since winning, I have much more confidence and credibility in the marketplace with clients and candidates," she says.
"When I reach out to new companies and candidates, there is no greater feeling than being able to open an introduction with 'I am an award-winning recruitment consultant contacting you on behalf of Harrington Star, a multi award-winning financial services specialist recruitment agency'."
And O'Beirne will never forget going into work the day after winning the award. "To walk back into the office with my plaque the following morning, I felt like I had done everyone proud and it was an overwhelming sense of happiness."
Today marks the deadline for recruiters to get their entries into this year's Awards, so choose your categories and get your entries in here. And the very best of luck!
• Comment below on this story. You can also tweet us to tell us your thoughts or share this story with a friend. Our editorial email is [email protected]