Chat Bot helps AA increase candidate and employer brand engagement
Chat Bot helps AA increase candidate and employer brand engagement
14 August 2019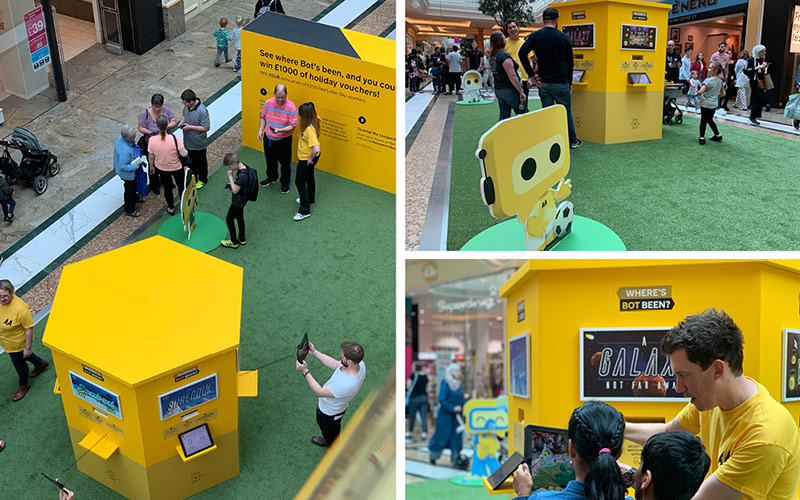 The AA is using a scuba-diving, goal-scoring, space-exploring, rock star 'Bot' to help the organisation engage with candidates.
According to the AA's director of talent acquisition, emerging talent & employee experience Craig Morgans, the bot will also take the AA's employer brand message to market.
He explains its AABot Drop app and Where's Bot Been? competition is part of an experiential recruitment campaign developed by Morgans in partnership with TMP Worldwide UK (a PeopleScout company). It is part of an initiative using augmented reality (AR) technology and 3D animation to help boost candidate engagement and raise awareness of careers with the AA.
According to Morgans, there are two main elements to the campaign: experiential shopping centre events and an online competition promoted at the events. Activity is also across social media, driving users to the AA careers site.
Morgans explains the AA Chat Bot began as a way to engage people on the AA careers website, but now the bot embodies the AA employer brand spirit of Ready for ANYTHING? in a series of animated AR adventures accessed through the AABot Drop app and trigger image postcards. The app also features interactive images of Bot and users can place him anywhere they decide to take him.
Through sharing these images using #wheresbotbeen, people are entered into a competition for the chance to win a prize. But Morgans adds this also helps to promote the AA on social media as a great place to work to a much wider audience and over a longer period of time than on an event day.
"Changing the way audiences connect with a brand, AR enables users to interact with digital content in the real world. It can be particularly effective when used in experiential marketing, allowing companies to create an authentic connection with audiences by delivering an interactive and memorable experience.
"Now the AA are using it to raise employer brand awareness and deliver recruitment messages in an unexpected, immersive and engaging way – cutting through more traditional recruitment communications to engage a wider, passive audience and increase their potential talent pool." 
 
According to Morgans, due to a steady stream of visitors to the shopping centre space on Saturday 10 August, by Monday 12 August traffic to the AA careers site had increased by 869%.
"Twitter and Instagram engagement increased considerably on the event day too, with organic impressions, clicks and engagement rates more than double the AA's average figures.
"And with continuing social media promotion and another event – at the Birmingham Bullring on 17 August – Bot's adventures look set to help the AA meet both its recruitment and engagement targets."
• Comment below on this story. You can also tweet us to tell us your thoughts or share this story with a friend. Our editorial email is [email protected]