OU calls for greater access to apprenticeships for disabled apprentices
OU calls for greater access to apprenticeships for disabled apprentices
27 September 2019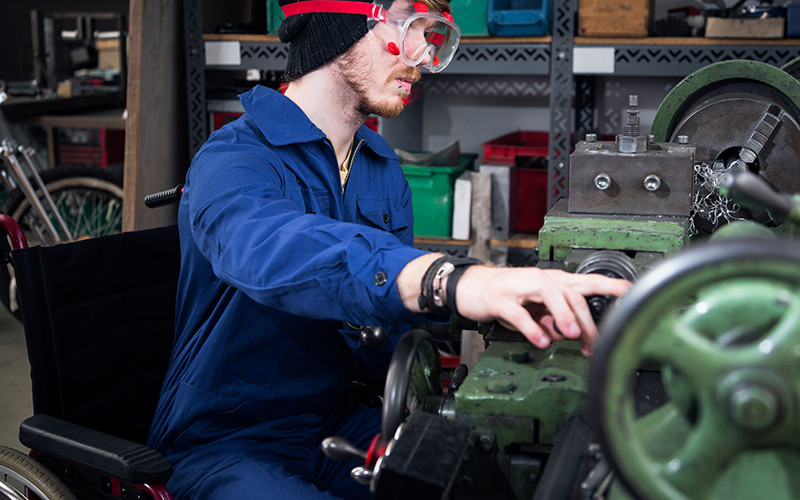 The Open University has called on government to help businesses further attract and recruit more disabled apprentices through its apprenticeship programmes.
The call follows a survey of more than 700 employers in England, which shows employers feel 'unequipped' to provide equal opportunities to people with declared disabilities. Close to half of organisations (47%) believe their companies could do with more internal support to help apprentices or entry-level graduates with declared disabilities.
The survey forms part of the OU's new 'Access to Apprenticeships' report. Key decision makers showed that while over a third of employers surveyed (38%) had proactively recruited individuals with disabilities over the past three years, many want further assistance in doing so, and more information on how to support the apprentice.
The survey also revealed almost a quarter of employers (24%) face challenges in financing the additional support required to train and develop individuals with a disability and over a quarter of decision makers (29%) report they don't have the training to enable them to better support employees with declared disabilities.
To help increase the number of apprentices with declared disabilities, The Open University has developed four recommendations for the UK government to ensure that government, training providers and employers can work better together to support, recruit and retain more apprentices with disabilities.
These include:
Enhance recruitment support
The UK government needs to do more to support employers to promote apprenticeship vacancies to people with disabilities through their campaign activity and their vacancy service. Consideration should be given to how employers can utilise the Apprenticeship Service to show that they are disability-friendly, promote roles that are suitable for individuals with different types of disability and identify disability-friendly training providers and specialist/third sector organisations that they can work with to identify and on-board candidates.
Provide more transparent information, advice and guidance
Both the UK government and training providers need to provide much better and clearer information, advice and guidance (IAG) to all employers hiring apprentices, and in particular to SMEs, around the support available to recruit and develop apprentices with disabilities (for example Access to Work).
Simplify the funding and clarify the eligibility and assessment processes to ensure every individual receives the support they deserve
The Department for Education should consider how the current funding model for individual learners, providers and employers seeking additional learning support can be radically simplified.
Improve education and training for employers
It is vital that all those working with apprentices with disabilities are fully trained and able to support individual needs to help them to succeed. A common programme of education should be considered for all employers recruiting apprentices with disabilities along the lines of the Mental Health First Aid programme.
• Comment below on this story. You can also tweet us to tell us your thoughts or share this story with a friend. Our editorial email is [email protected]