Digital transformation is essential for recruitment process post-pandemic
Digital transformation is essential for recruitment process post-pandemic
Vanessa Townsend
22 October 2020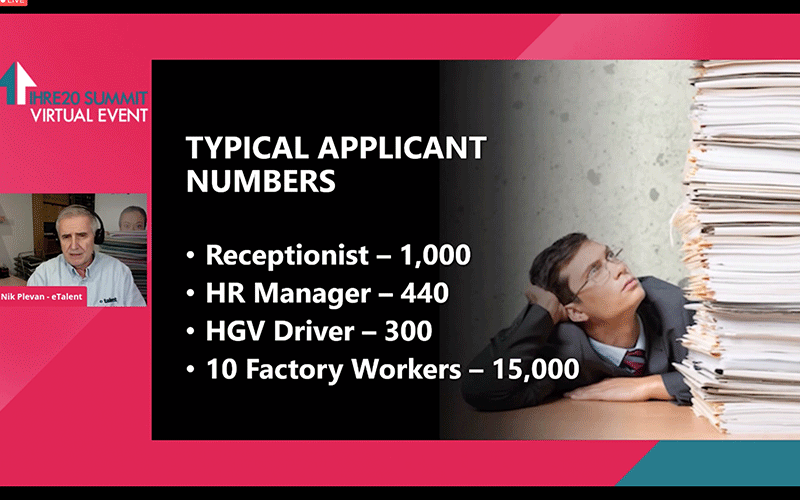 With demands on staff so onerous during the Covid pandemic, to make the right impact quickly, the recruitment process has been forced to go digital.
This was one of the findings delegates tuning into the IHRE20 Summit Virtual Event last week could learn more insight about from a wide selection of online seminars on offer.

Nik Plevan, founder of psychometric recruitment software eTalent, said that managing the recruitment process in a post-Covid world would involve a more tech-savvy approach. He quoted the chairman of KPMG Mark Goodburn: "Digital transformation is essential, from recruitment to retention." 
Plevan said that thousands more applications for job vacancies were making it harder for recruiters to find the right person, and that dismissing CVs that didn't provide the requisite experiences and qualifications was the wrong way to go. "What's [included] in the CV are aften poor predictors of success," he argued. "Experience doesn't equal cultural fit."
And he added: "With the tsunami of applications flooding in, we mustn't lose sight that every application is a real person."
He suggested that the answer was in looking for the soft skills, such as motivation, potential and values, and to do the first stages of screening all online – no time-consuming CV sifting for recruiters.
Underlining the need to help the workload for recruiters, Rachel Dalboth, strategy and capability director at The FIRM (Forum for In-House Recruitment Managers), told the online audience that recruitment teams were getting smaller due to "shrinking budgets from business", according to The FIRM's latest research.
With the massive rise in job applications from the "600,000 out of work hit by the pandemic", this inevitably pushes digital acceleration, leading to the question of whether staff could be upskilled in time to deal with the influx of CVs. 
The speed of digital change within a recruitment team could be solved by using IT-savvy graduates to leverage the in-demand tech skills, she said: "We need those skills."
• Comment below on this story. Or let us know what you think by emailing us at [email protected] or tweet us to tell us your thoughts or share this story with a friend.