GLAA operation rescues three from hand car wash in Liverpool
GLAA operation rescues three from hand car wash in Liverpool
Vanessa Townsend
6 July 2021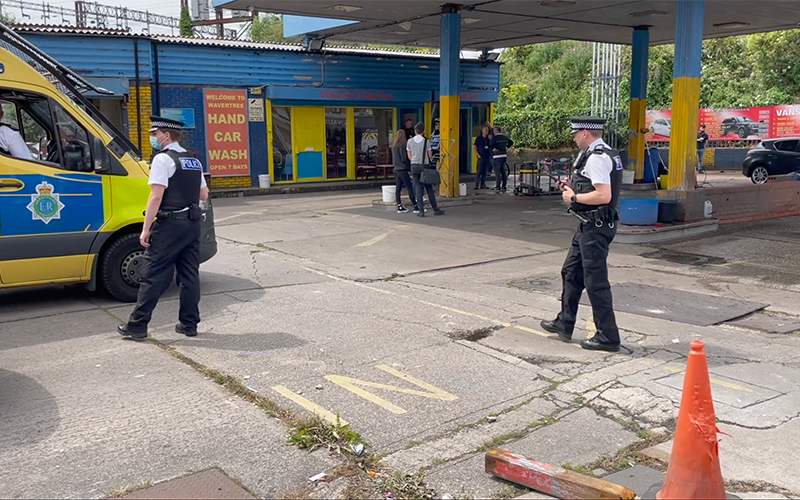 Three potential victims of modern slavery and labour exploitation have been rescued during a raid by the Gangmasters and Labour Abuse Authority (GLAA) at a hand car wash (pictured).
GLAA officers were joined by Merseyside Police and HM Revenue & Customs' National Minimum Wage team for the operation on Wednesday 30 June in Wavertree, Liverpool.
The potential victims, the youngest in his late teens, with the other two in their 20s, were safeguarded and taken to a reception centre set up for the operation where they received specialist support.
Two men – a 31-year-old Iranian national and 24-year-old Iraqi national – were arrested at the car wash on suspicion of committing forced or compulsory labour offences under Section 1 of the Modern Slavery Act.
GLAA officers also conducted searches of the car wash and addresses of the two suspects.
Information received via the Modern Slavery Helpline earlier in the year combined with the GLAA's own intelligence gathering indicated that workers at the site were not being paid the National Minimum Wage, had identification such as birth certificates taken off them, and were constantly monitored on site, suggesting a level of coercion and control.
GLAA senior investigating officer (SIO) Martin Plimmer said: "This operation demonstrates the importance of members of the public being able to spot the signs of modern slavery and more importantly reporting their concerns so we can take action."
Elsewhere, more than 300 farm workers were spoken to by the GLAA as part of an open day event across two agricultural sites in Kent.
GLAA officers were joined by Kent Police for the engagement visits to Mansfields farms near Canterbury last week.
Workers were given the opportunity to speak to the GLAA at the end of their shifts, with information provided to them about their rights in the workplace and how to contact the GLAA or police if they have concerns about labour exploitation.
Mansfields specialises in the growing, picking and packaging of top, stone and soft fruit, harvesting more than 25,000 tonnes of fruit a year across its 3,000 acres of farmland.
Workers are supplied to the business by Pro Force, a GLAA-licensed recruitment agency which provides workers to businesses across the regulated sector of agriculture, horticulture and food production.
GLAA SIO Jennifer Baines said: "We were pleased that the workers reported no issues and were happy with their working conditions.
"Providing workers with information about their rights and what to do if something is not right is crucial in raising awareness and educating what are potentially vulnerable people about the signs of modern slavery and labour exploitation.
"It's also really positive to see first-hand businesses and recruitment agencies take these issues seriously and actively encourage their workers to speak to us so that any problems can be identified and addressed swiftly."
• Comment below on this story. Or let us know what you think by emailing us at [email protected] or tweet us to tell us your thoughts or share this story with a friend.