ANALYSIS: Businesses need to be 'fluent in the language of geopolitics'
ANALYSIS: Businesses need to be 'fluent in the language of geopolitics'
Vanessa Townsend
24 March 2022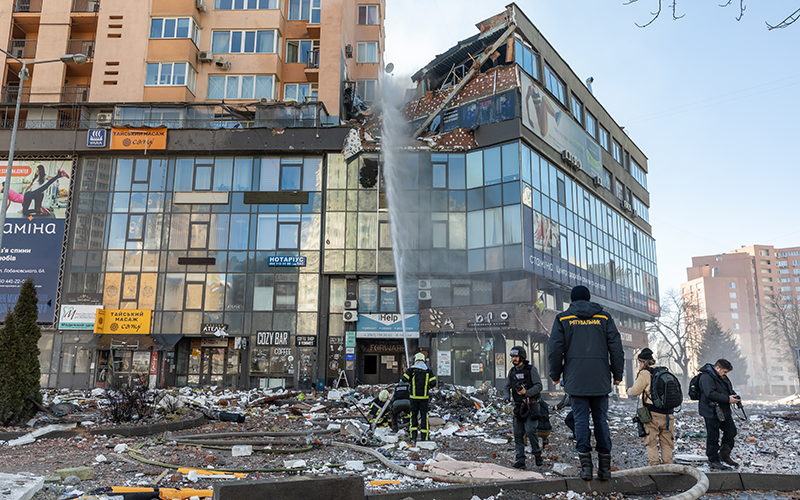 The risks for undertaking business in Ukraine "are beyond severe and really quite bleak", according to the head of advisory at security intelligence firm Dragonfly.
As a result of the worsening situation in Ukraine, with increased missile attacks affecting more and more towns and cities, Cvete Koneska told Recruiter it was "simply impossible" for business continuity in the country.
There were, however, "[Dragonfly] clients in Ukraine still [undertaking a] duty of care above and beyond" for their employees and work as they try to maintain and carry out essential services in such impossible circumstances.
A geopolitical and security intelligence service for the world's leading companies and organisations, Dragonfly advises its clients to translate the implications for them arising from changing situations around the world. As reported by Recruiter, Russian IT recruitment agency Lucky Hunter decided to close its St Petersburg base and relocate its business out of Russia as a result of the Russian policy to invade Ukraine. Recruiter understands that a number of other recruitment businesses, known to Lucky Hunter, have also decided to leave Russia due to the Kremlin's policy against Ukraine.
Koneska said businesses, including recruitment agencies, need to "tread particularly carefully in deciding whether they exit Russia". Until now, sustainability and climate change have dominated the ethical conversation surrounding businesses. However, this is changing. "Company boards and the leadership need to be more fluent in the language of geopolitics," she said.
Although many large Western firms, such as McDonalds and Ikea, have shut up shop in Russia, other corporations, including Swiss-headquartered food group Nestlé, have taken the decision to remain, yet saying that it had "greatly reduced our activities in Russia", a Nestlé spokeswoman told news agency AFP.
"It's a very interesting stand," Koneska said, "but it is too early to see how [that decision] will affect them." According to the FT, Nestlé has more than 7,000 employees in Russia and other firms remaining, including PepsiCo, Danone, L'Oréal and Carlsberg, cite their responsibility to their often large Russian staff.
On the human capital level, the withdrawal of Western companies "will have quite a big impact", according to Koneska, and anecdotally the loss of jobs has already affected employees and their families.
Looking to future political events, with a stronger Sino-Russia alignment more probable, companies working in China will have to navigate this new multipolar world order. "So far," said Koneska, "businesses have avoided politics, but [now] they have been forced to adapt to that reality… It is fundamental – [they] have to be good corporate citizens of the world."
According to TomorrowToday Global, an organisation that helps clients anticipate future global trends to prepare for tomorrow, "the current conflict in Ukraine will not be the last sortie in the multipolar battle plan. The 2020s will be a decade of disruption: businesses will need to prepare for the long haul".
Dean van Leeuwen, partner in TomorrowToday's European and global office, and Graeme Codrington, partner in the South African and global office, said that businesses today can have a huge impact on geopolitical situations. "In many instances their influence in the world can be bigger than governments'. Don't imagine that your organisation cannot influence the outcome of wars. It can.
"The 2020s will be a pivotal decade," van Leeuwen said, "and an outcome will be the emergence of a new geopolitical and economic system. This system is not predetermined, and businesses have an important role in shaping and creating the system that evolves."
• Comment below on this story. Or let us know what you think by emailing us at [email protected] or tweet us to tell us your thoughts or share this story with a friend.