REC calls for immigration reforms
14 August 2019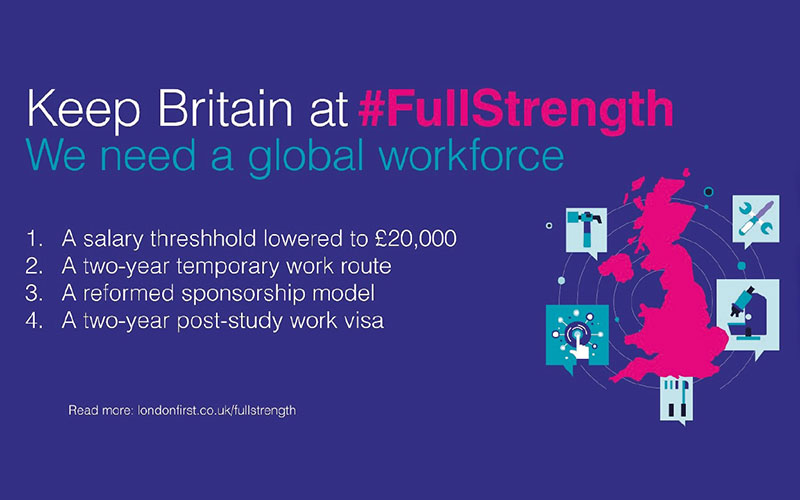 The immigration system needs to be more open to keep the economy at full strength
The Recruitment & Employment Confederation has joined a broad, cross-sector, coalition of trade, business and education bodies in calling for a more open immigration system to keep the UK at "full strength".

Ahead of the new Prime Minister taking office, the #FullStrength coalition wrote to him calling for clear action on reforming the immigration system to avoid employers facing a "cliff-edge in recruitment" amid worsening chronic skills and labour shortages. It sets out four reforms to the government's Immigration White Paper: 
lowering the salary threshold for Tier 2 visas
extending the temporary work route for overseas workers from one year to two years and allowing people on this route to apply to other routes such as a skilled visa while in the UK
revising the sponsorship model to make it easier for firms of all sizes to bring in the overseas talent they need, and 

reinstating the two-year post-study visa for international students to work in the UK post-graduation.

More than 60% of jobs in the UK currently fall under the proposed £30,000 salary threshold, which highlights the risk in setting the future level too high for vital services such as health and social care. 

And as REC chief executive Neil Carberry explained, the extension of the temporary work route could help take the edge off the uncertainty around access to labour that Brexit is exacerbating. 

He added: "A healthy UK economy will need people coming from abroad to contribute at all skill levels, across a wide range of sectors. Our immigration system needs to be managed, but it must also be open – helping businesses to grow and create jobs for citizens and new arrivals alike. To build a truly global Britain, we should welcome our friends, colleagues and family members who come here to add to our society and our economy, and the new Prime Minister and his team need to take these proposals from the #FullStrength coalition seriously."

The coaltion also includes London First, techUK, British Retail Consortium, UKHospitality, Federation of Master Builders, Universities UK, Innovate Finance, Association of Labour Providers, The Coalition for a Digital Economy (Coadec), and North West Business Leadership Team.