Four pillars to developing a successful post-COVID-19 people strategy
24 August 2020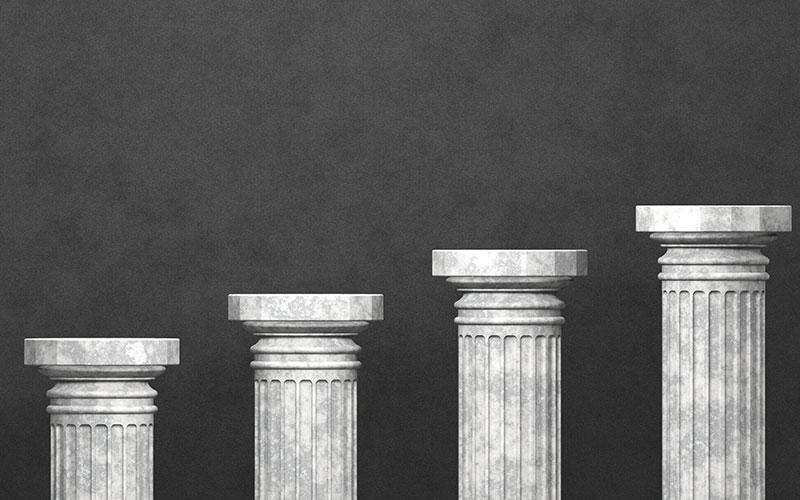 What is your most important business priority right now? Retaining clients, onboarding new ones, putting together your five-year plan, looking for financial support?
Where does 'your people' sit within your list of priorities? Have you factored in elements such as culture, skills for the future and your staff's well-being to shape your future people strategy?
Don't worry if you haven't given it as much thought as you wanted to. We have done the groundwork for you, and through our 'essential lessons guide for recruitment leaders' you'll learn about the four key areas you need to be mindful of when planning your 'people strategy' for the future, and they are:
Leadership
Culture
Mental health and well-being
Skills for the new era
Leadership
Good leaders recognise the importance of communication and showing empathy to support their workforce. One of the key areas of consideration for leaders as we get closer to the end of the Job Retention Scheme is 'redundancy'. How do you navigate redundancies effectively?  
The short answer is there is no "one size fits all" strategy when it comes to the redundancy process - there must be a genuine redundancy situation and a fair procedure applied. Here are some points you need to consider:
What are your employees' rights on redundancies?
How does furlough impact the process?
How do you keep morale up for remaining staff following redundancies?
You'll find all the answers on our webinars on-demand located within our essential lessons digital guide.
Culture
One of the traits of effective leadership is creating a "we" not "me" culture. As leaders, you need to create a culture of resilience - a safe space for your staff to learn from mistakes and develop. You also need to create a supportive culture that will influence your people's productivity and improve results.
You'll find the key elements of a strong culture, tips on effectively measuring cultural change, and guidance to transforming your workforce in our essential business lessons guide here.
Company culture is the greatest source of well-being, which leads us to the next point.
"Kindness and compassion are not a weakness but a strength for leaders – the more you can demonstrate these the more you can engage with your people to help bring them on a journey." - Bradley Placks, ToAugment
Mental health and well-being
One of our top tips for leaders on ensuring good mental health of your staff is to make sure you understand how your staff is feeling (especially those on furlough), encourage a level of openness, and connect weekly (or more frequently). Be mindful of the wording you use when communicating. As a leader, you should offer reassurance, empathise, be supportive and positive.
Our essential business lessons guide has tips on assessing your staff's well-being, practical steps to consider when bringing staff back to work and guidance on cultivating a positive mindset for staff returning to work.
Skills for the new era
"How do I identify and develop skills to drive business performance to create a fit for purpose workforce?"
This was one of the top questions asked by attendees of our COVID-19 special webinar series. We identified eight key skills recruiters and leaders need for the new era:
Adaptability
Being tech-savvy
Creativity and innovation
Data literate
Find the remaining four skills and more practical advice on what you need to do a business leader to develop these skills on our free essential business lessons guide.
Looking for lessons on business strategy and management? Read our previous blog or head to the essential lessons digital guide.
Image credit | Shutterstock