Penny Streeter: Growing ambition
Vanessa Townsend
12 March 2020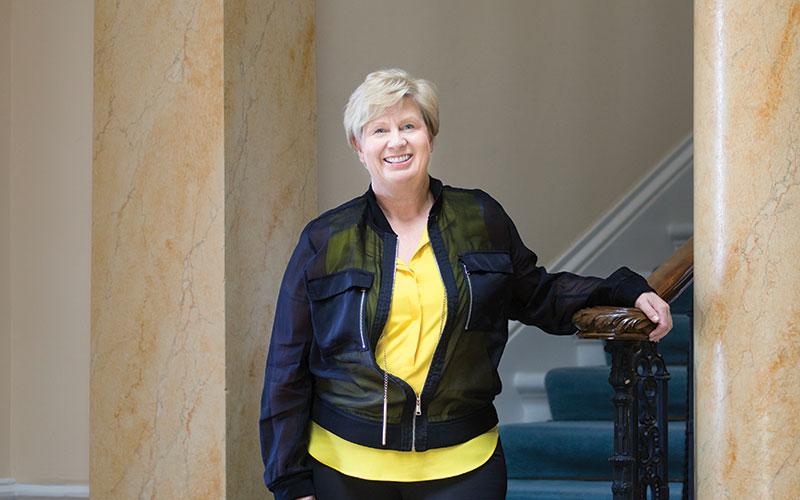 The founder of healthcare recruitment group A24 has taken on one of the largest historic renovation projects in the UK. Vanessa Townsend went to meet her to find out more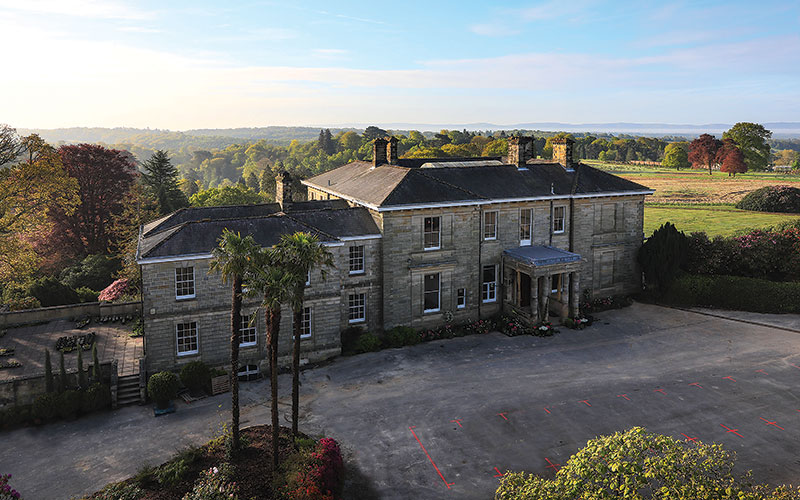 Sitting in a Grade II listed mansion house, overlooking spectacular terraced woodland gardens, a newly-planted vineyard to the right and impressive views across the South Downs, Penny Streeter OBE is rightly proud of Leonardslee Lakes and Gardens.
The 240-acre Leonardslee estate, near Horsham in Surrey, was reopened to the public last year following the recruitment entrepreneur buying the neglected property in 2017, investing vast amounts of time and money in restoration, and giving the lakes, gardens and properties on the estate a new lease of life. It now even boasts England's first Pinotage vineyard.
The mansion house where Recruiter met with Streeter, founder and managing director of nursing and healthcare recruiter A24 Group, and her husband and COO of A24 Group Nick Rea, is now home to a Michelin-starred restaurant – less than a year after opening. However, back in 2017, the Georgian mansion house looked quite a different prospect altogether.
"This place was all chained up and when we eventually got in, there was water running everywhere," Streeter explained. "You couldn't get into the bottom gardens because they were just completely overgrown. The estate agent said it was a 'gardening challenge' for the interested renovator," she laughed.
So what made her see through the dilapidated property? "Well, it just had such an amazing feeling. I literally didn't know anything about it. The Dolls' House Museum was there – that's still here – although it was very close to being completely ruined as again there was water coming in. The wallabies were hopping around in the grounds and... I went away and did some research on it, and just fell in love with the place. It was very, very magical."
The Dolls' House collection depicts the Edwardian estate and neighbouring villages at 1:12 scale, with landscapes and characters acting out day-to-day activities. It was created by Helen Holland in 1998 and was recently restored. The Leonardslee wallabies – today still hopping around outside in a nursery area and some loose in the grounds – were introduced by naturalist and previous Leonardslee owner Sir Edmund Loder in 1889, and are believed to be Bennett wallabies from Tasmania, Australia.
The scale of the restoration job would have put most people off. But Streeter isn't most people. "The amount of work and restoration that still has to go on here is massive. But [at the time] I think if someone had probably sat me down, given me a couple of slaps, I might have thought twice, but it's been an amazing journey," she says proudly.
I went away and did some research on it, and just fell in love with the place. It was very, very magical"
Hard-knock life
Her journey to where she is now gives a glimpse of where her tenacious spirit and constant hard work comes from. Moving at the age of 12 with her family from Zimbabwe to the UK in the late 70s, after school Streeter took the usual route into recruitment: "I fell into the recruitment industry quite by chance." At that time Streeter was a beauty therapist. "I didn't enjoy that. I walked into a recruitment agency in Wallington [South Croydon]. I said to them, 'Look, you need to find me a job', and they said, 'We're short staffed, get behind the desk'!"
Working in commercial recruitment, she recruited her mother, who had worked in HR, and they both ran separate successful branches. "One day, the boss called us in and said, 'Look, you're doing too well. You are earning so much commission, we can actually get people much cheaper. You're fired.' And he fired us."
This spurred Streeter on and with her mother Marion taking out bank loans, they jointly set up their own recruitment agency. "It was all going really well but it was 1989 and the crash happened. Literally, the whole thing went belly up," she explains. Along with her two children and husband at that time, and with her mother losing everything, she decided to go to South Africa and work at her sister's restaurant.
After a couple of years, her youngest daughter caught meningitis, which "caused us to re-evaluate". They returned to the UK with absolutely nothing. Streeter's marriage broke down, she was pregnant with her third child and they ended up in a women's refuge. "I think when the midwife came around to see me, I sat on the bean bag and she sat on a deck chair," she says, smiling despite the bleakness of the memory.
She was facing a life on benefits when a friend offered her a corner space in his office. She knew she wanted to start a recruitment business again, so despite her mother saying she was "insane", they took turns at childcare one day, working the next. They also turned their hands to children's discos at the weekend "to finance their advertising", Streeter laughs.
24-7 healthcare
Although the initial business was in the finance sector, Streeter stumbled upon the healthcare sector. Healthcare staffing agencies in the mid-90s were all 9-5. But when she left the answerphone on at 8 o'clock in the evening, they were getting calls from nursing homes saying they were desperate for a nurse. "The healthcare industry was 24-7, and it required an instant response," she says.
"One of us was always there with the children. But literally, I was the '24 hours' at the early part of that business. These phones would go night and day. I'd fall asleep on my couch and a nurse would call me at two in the morning. It was only years later I spoke to that same nurse. She said she used to do that every night because she was worried about me sitting in the office being tired and she wanted to keep me awake!" she says, laughing about it now.
In 1996, Ambition 24hours was launched and grew rapidly. However, it was only when she received a phone call from Fast Track 100 that she realised how rapidly: "They rang us up and said, 'Do you realise that you're the fastest-growing company of all companies in the UK?'. Well, it was a complete and utter shock to us because literally we were just focusing on what we were doing."
In the following decade, the company expanded its service to cover locum doctors, allied health professionals, carers, social workers and teachers. But all the time Streeter was proud that A24 is a cash-free business.
"We've always invested every single penny we earn back into our business … The big driver is to keep working because as we grew bigger, you have other people's livelihoods that you're now responsible for. I still have this fear that if I don't work hard, and I don't put the time in, then the world moves very quickly and you can become uncompetitive if you're not doing things correctly."
Between 2000-04, Streeter once again became a victim of her business' success when rival recruiters sent headhunters to hang around outside Ambition's offices, trying to entice consultants away: "They were trying to persuade consultants to leave, offering to pay double the salary to bring in all our data. We went to court numerous times." It got to the point where competitors would ring up, pretending to be hospitals, and cancel shifts. "We really thought that we'd lose our business," she remembers.
"It was at that point that we went to Cape Town on holiday and we sat there looking at Table Mountain. And I said to Nick, 'Imagine if we could run Ambition from here'," she recalls. So in 2004, A24 Group opened in South Africa, relocating the direct sales operation – its recruiters – within nine months to Cape Town.
A24 Group was awarded a contract to supply nurses for temporary staffing to the Department of Health in the Western Cape, South Africa in 2009 and was the first of the nursing agencies in South Africa to offer a service 24 hours a day, seven days a week. Today, there are 250 recruiters based in Cape Town, with 100 in the UK.
We've invested every single penny we earn back into our business – the big driver is to keep working"
New horizons
Streeter bought a property in Benguela Cove, overlooking the Western Cape, an hour from Cape Town. "I called it 'I swallowed the spider to catch the fly'," she explained, as from there she ended up buying the Benguela Cove Lagoon Wine Estate in 2013. "We've done quite a lot of commercial property ventures and I thought, ah, this is no problem. And then suddenly we realised that rather than having a little boutique vineyard, it had this massive 70 hectare vineyard!"
She realised her route to market with this wine was "looking back at our home ground, which is obviously here". In 2016, the Mannings Heath Golf & Wine Estate in Horsham, West Sussex, became part of the Benguela 'Collection', with Leonardslee adding to the portfolio in 2017. Both UK properties offer wine experiences with Benguela Cove products taking centre stage, waiting until the first English vintages are ready for tasting in a couple of years – around 2023.
Returning to the inordinate amount of work and organisation that went into getting Leonardslee habitable and open to the public, how did Streeter juggle that with managing the A24 Group both in the UK and South Africa? "Yes, it's been tough, because I'm predominantly based in Cape Town now. I just sit on conference calls to project managers and teams all day long. So, you know, I'm a big control freak," she admits. "I'm involved in all aspects of it." (Streeter chose all the décor for the estate buildings – even, she confessed, down to the furnishings in the toilets!)
She also places a lot of trust in the team: her eldest son Adam, who worked in the recruitment business for a while, came back to live full time at Leonardslee. "He's got a very strong flair for hospitality and enjoys it," she says. And A24 finance director Charles Rees is her 'right-hand man'. "He not only oversees A24, he has a keen watching eye on all of these businesses."
So what does the future hold, not only for the A24 Group but for Streeter, personally? "I'm still really keen to continue to grow my recruitment businesses, and that's still my number one passion, through organic growth or acquisition. We need to do what we do within recruitment, but to also look at our hospitality businesses and, you know, really create something special within the wine tourism and tourism industry."
Does she think that's a bit of a side-step from nursing and healthcare recruitment? "I think that it's quite an exciting journey and we're only at the very beginning of it, especially where the UK will be in the emerging wine tourism market. Maybe we need to go into wine recruitment, I don't know," she finishes with a quizzical smile.
---
Penny Streeter
2006 OBE (Order of the British Empire) New Year's Honours for 'Services to Enterprise'
2003 CBI (Confederation of British Industry) Entrepreneur of the Year
2003, 2004 Management Today, Top 100 Entrepreneurs: Top woman, and No. 13 overall for two years
2004, 2003, 2002 Fast Track 100 'Fastest Growing UK Companies' – No.1 in 2002
Since 2013, owner of Benguela Collection property and entertainment group, comprising Benguela Cove Lagoon Wine Estate in South Africa, and in the UK Mannings Heath Golf & Wine Estate and Leonardslee Lakes and Gardens
---
A24 Group
Annual turnover c£50m
350 (250 in South Africa, 100 in the UK) recruiters across six medical divisions: Ambition 24 hours, NS Health Staffing, British Nursing Association, Grosvenor Nursing, Mayfair Specialist Nursing, Pinnacle Health Care
Places over 100,000 hours of healthcare professionals weekly, operating on two continents and working with more than 20,000 healthcare professionals
2013: hospitality recruiter First Call Employment joins the A24 Group