11 Most Influential In-house Recruiters
Sue Weekes
27 September 2021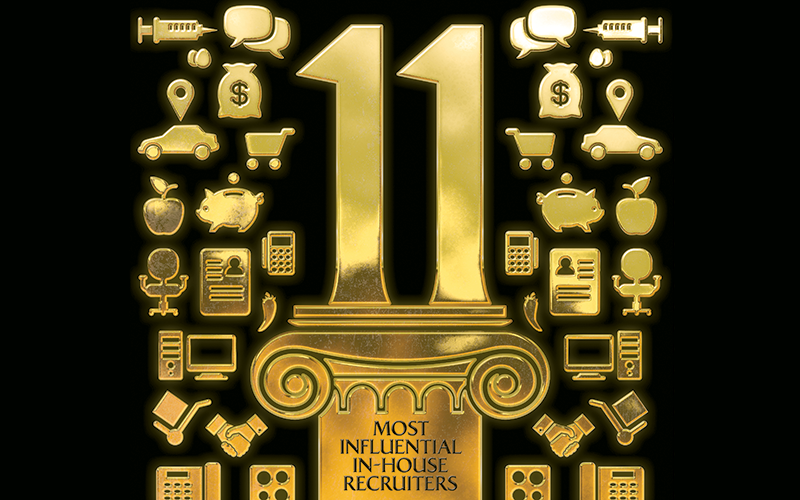 Welcome to the eighth 11 Most Influential In-house Recruiters report.
In one of the most unpredictable years ever for recruitment, our annual showcase shows that in-house resourcing teams have been both resilient and creative in equal parts in the face of the Covid-19 pandemic.
And 2021 has also seen the emergence – some might say 'eruption' – of the 'Superteam' in talent acquisition, in which heavy hitters have been curated into a multi-headed fighting force to take on the world.
The concept first surfaced at Nationwide a few years ago, but the assembled team did not remain in place for long. Keep an eye on these teams for proof of concept this time, as well as on the individuals who continue to make a name for themselves and their firms on the talent highway.
What our annual showcase proves, though, is that the UK's in-house resourcing community is ready to meet the challenges head-on, and support their organisations to attract and retain the talent they need to recover, grow and compete.
Method
Information and data were gathered from a range of sources in the public domain. Having arrived at our selection, we then asked the individuals what they saw as their main achievements during the past year and main objectives going forward. Wherever possible, metrics such as volume of hire were collected. As always, there will be a degree of subjectivity in a list of this nature, but consistent with other years we aim to apply a set of criteria that qualifies a person for inclusion. This is primarily based on the following: the size, scale, scope and challenge of the position and effectiveness in the role; ability to be strategic and add value, and position the resourcing function central to the business; the degree of innovation or change brought to the current and/ or previous organisation; perceived influence both internally and externally; and the extent to which the individual is considered an industry visionary, trailblazer or thought-leader. Industry or company-specific challenges are also taken into consideration where appropriate.
---
1. Superteam: AstraZeneca
The story of the development of the Oxford-AstraZeneca (AZ) vaccine is well-known but behind it is a less well-known recruitment story that also deserves to be told. Globally, the talent acquisition team numbers around 250 people and around 65 of these are UK-based. They include Maggie Spong, vice president, talent acquisition; Will Dempsey, director, global talent acquisition, external resource management, systems and processes; and Kate Wright, global talent acquisition partner, enabling functions, AZ Global. The AZ talent acquisition team's objective throughout 2020 was to recruit a high-volume number of new roles to support both the clinical trials, as well as establishing the new manufacturing and supply chains. Additionally, it supported the set-up of testing centres in a number of key locations including at its global headquarters in Cambridge UK where it partnered with GSK, Cambridge University and Charles River Laboratories. Of course, the AZ recruitment team was no different from any other organisation in shifting to digital/virtual in a number of areas but had to do it "at lightning speed", reports Dempsey. The pressure of high-volume recruiting in critical areas and changing the recruitment model might have seemed enough for one year but AZ also set itself the task of reviewing candidate experience, diving deeply into its offering and assessing what candidates expect of it.
It has recently launched its customer experience (CX) guiding principles for the talent acquisition team and is using data to reassess its approach to acquisition to develop strategies that allow it to get "on the front foot", says Dempsey. Following the recent acquisition of Alexion Pharmaceuticals, a key area of focus in the next 12 months is aligning and integrating the team into the AZ group. Candidate experience will also continue to be high on the agenda and alongside this Dempsey says the team will be playing a vital part in shift back to the office.
---
Amazons dynamic duo
2. Cath Possamai
EMEA talent acquisition director, Amazon Worldwide Operations
Recruiter caught up with Cath Possamai on day one of her new job at Amazon. She had left her role at Capita, leading recruitment for the British Army, where her main priority over the past 12 months was to lead the team and candidates safely through the height of the pandemic. The nature of Army recruitment, with face-to-face medicals and fitness assessments, meant they had to find a way to safely run assessment centres and still deliver the required number of recruits. The team managed to put 16,000 people through the centres between April 2020-March 2021. "And, to the best of our knowledge, not a single candidate or member of our military and civilian team caught Covid as a result," says Possamai. "This delivery meant that we were able, despite the pandemic, to deliver 100% of the Army's soldier and officer requirement of around 8,800." During that period, the Capita/Army contract was also extended for a further two years from the initial 10-year period.
"This would have been unthinkable in the dark days of 2012-17 when the partnership was failing," she says, adding it was the final thing she wanted to achieve before handing a team and a task she "cared passionately for" over to a successor. While vastly different from the Army, Amazon offers similar complexity and challenge, she says, and her priority is to understand as rapidly as possible the needs of the new team and how best to lead them to support the continued exponential growth in EMEA. "Having mastered fluent Army-ese over the past four years, I now have a whole new language of acronyms to learn, too," she says.
3. Toby Culshaw
Senior manager, global talent intelligence, consumer talent operations, Amazon
Culshaw spent the first half of the last 12 months in his previous role at Philips "driving deeper than ever before" into the company's competitive intelligence and seeing how rival companies were pivoting in the face of Covid-19. The second half saw this relentless champion of talent intelligence and data take up a new challenge at Amazon. The online retailer's scale and velocity throws up unique challenges that need to be attacked with "commercially, customer-obsessed" talent intelligence, says Culshaw. Resetting the strategy and operating model – as well as refining the product offering – has enabled his team to take their work to more senior leaders in a broader customer base. It is already having a measurable business impact and demand for their work is outstripping the ability to deliver. Meanwhile, the Talent Intelligence Collective, networking and peer-to peer learning group founded by Culshaw in 2018, has doubled in size to more than 1,000 members. Covid-19 has had a huge impact on recruitment but, he says, talent intelligence is particularly powerful in times of change during which time decisive, data-backed decision-making becomes vital.
---
4. Erika Bernstedt
Senior talent sourcing, Salesforce
The multi-lingual Bernstedt (she speaks Swedish, Finnish, Norwegian, Danish, German, as well as English) has been much in demand in her 13 years of working both in-house and at agencies. She's experienced in international markets including the Baltic, Icelandic and Scandinavian regions, as well as Belgium, Germany and the Netherlands. Adding to that, she has an enviable track record in technology recruitment. She joined Salesforce, just ahead of the first lockdown in a senior talent sourcing role, having previously worked on contract as EMEA senior talent acquisition consultant at Dell Technologies. More than 150,000 companies rely on Salesforce's customer relationship management system every day, and for many it will be central to growing their business following the pandemic.
She swiftly set about growing the enterprise sales teams in Finland and Switzerland, mid-markets sales team in France, and the emerging and small business sales team in the DACH (Germany, Austria and Switzerland) region. A challenge of the Covid-19 era is that candidates are less likely to relocate to new geographies and view it as risky to start in a new job remotely, she says. Her next challenges? Continuous growth of the diversity numbers, remote onboarding and "getting people slowly back to working in office environments", she says.
---
5. Salma Rashad El Hamalawy
Director global executive search, executive search EMEA & enterprise functions lead, Johnson & Johnson
Covid-19 caused many organisations to accelerate their digital transformation plans but for vaccine companies like Johnson & Johnson (J&J), timeframes for such initiatives took on new meaning. When J&J announced its plan "to supply hundreds of millions of a safe and effective Covid-19 vaccine globally", one of its immediate priorities was to bring new colleagues on board who then helped to scale the company's manufacturing and production capabilities for the vaccine.
"Given the urgency, the high volume and the tight deadlines, our new approach to digital interviews was a factor that contributed to meeting our goals," explains El Hamalawy. She says the number one priority has been the health & safety of employees and candidates so transitioning to a fully digital process, from interviewing to onboarding where possible, was vital. Going forward, J&J also wants to further strengthen employer brand, attracting key capabilities in areas such as e-commerce, data science and R&D. El Hamalawy adds that a "strong focus" on diversity, equity and inclusion will be an integral part of future objectives.
---
6. Louise Curtis
International talent acquisition, UKG
UKG (Ultimate Kronos Group), built from a merger of HR solutions companies Ultimate Software and Kronos, created one of the largest cloud companies in the world. UKG's SaaS-based technology will be at the forefront of helping organisations navigate the new normal and rise of the hybrid workplace. Its brand promise is 'Our purpose is people'. Acquisition of its own people to support its growth is key and although she's only been in-role since August, Curtis, who previously held roles at eBay and FundingCircle, is getting stuck into a new industry and "its nuances". And, at the time of writing, she's doing so not having met any of her team face-to-face but over camera. She's well prepared though, saying she and her team in her previous role in Funding Circle lived through the eye of the storm with regard to Covid-19. "It was all about compassion, ensuring my team were happy and felt supported," she says. "I feel proud of what we achieved together to support the business." Covid-19, she says, has driven home the importance of work-life balance and how people "are incredibly adaptable to adversity". "Our time in lockdown gave me time to reflect on what is important for myself and my family, and the role and organisation I wanted to work for: how we work, why we work and what we value – these were all key questions I asked myself," she says, adding that she's been fortunate to work for organisations whose business models she feels a synergy with and UKG is no exception. "UKG invest heavily in our people and products, so I feel incredibly proud and super excited to be working in an organisation that shares the same personal values as I do – United, Kind and Growing."
---
7. Roopesh Panchasra
Global head of executive talent acquisition, Uber
A busy start to 2021 saw Roopesh Panchasra renew the leadership engagement model at SAP before leaving in January for his new role at Uber. He delayed the start until March to look after his elderly parents but then wasted no time in cracking on with his mission to establish "the most bionic" executive TA function in the industry. He is working directly with the Uber board and in month three designed his three-year strategic plan. This includes top-of-funnel strategies, an executive diversity programme, onboarding, team development roadmaps, KPIs and executive talent management. Panchasra says the pandemic has changed a number of things for him and how he leads: "We have incredible talent in every corner, which we need to embrace." Going forward, he aims to help Uber evolve across TA areas that he manages but also ones that he doesn't. "There is a lot of opportunity for a leading consumer tech business to learn from an enterprise tech business. Understanding how both environments work has been a revelation." He also wants to help Uber executive TA to shift from being a transacting business to a holistic leadership one, and convince leaders that great talent doesn't just sit at the "usual suspect" of companies. "My aim is to help Uber build a brand that influences leaders at the top-of-funnel way before the existence of a requisition," he says. "The tech space is a hotbed with companies going over and above to attract talent. This creates compression, which will inevitably implode and we will be ready for this."
---
8. Marie Helson
People director, HelloFresh UK
Being deprived of so many of aspects of normal life, recipe delivery box company HelloFresh brought relief from the daily Covid figures in the darkest days of the pandemic in households up and down the country. Helson and her team delivered more than triple headcount growth, opened a new distribution site and she navigated the team through an ever-changing landscape of restrictions and protection measures. Helson says she is "incredibly proud" of the team and the way it responded. "While we have felt very fortunate to be able to talk about growth and job opportunities, it has been tough, physically and mentally on many of our team and a lot of our focus has been on how to support people within work but also in their personal and family life too." The company has changed how the team works every day, how it attracts talent, onboarding and its culture. "We are a data-driven business and we had to rapidly adapt to volatile and unexpected customer needs and supply chain challenges," she says. "It also provided us opportunities to be able to tap into pools of new talent, people that were not able to work in their regular industry and we are proud to have been able to support them make the change." Continued growth means sourcing the right talent is critical in a competitive and more restricted market since Brexit.
---
9. Jon Hull
Head of resourcing delivery, Nationwide Building Society
Hull and his team have been busy revamping the resourcing service to make the shift in thinking towards a more proactive strategic offer that aligns with the HR strategy. As well as helping to build future capacity this has inclusion and diversity at its heart, something which has always been central to Hull's efforts in this and previous roles. Digitising and transforming the approach to assessment for all customer-facing and emerging talent roles has led to a big leap in diverse outcomes for the graduate and tech programmes with a 50% male/female split and 35% ethnically diverse hires. Hull reports that two years ago Nationwide had zero reputation in the tech market but in the last 18 months has built a series of branding tools and interventions and taken a data-driven approach that has increased applications per role by 70%. Hull explains that retail banking margins are coming under sustained pressure so, in an era of greater competition, resourcing delivery must help the society meet its cost challenges over the medium term. This involved a resourcing transformation programme, outsourcing the operational delivery, and creating a strategic resourcing partner role, which Hull says allows the team to focus on key priorities rather than be encumbered with delivery. Covid-19 led the organisation to announce a work-from-anywhere policy in the UK and, on an operational level, moved to a virtual assessment platform for emerging talent and volume roles.
---
10. Superteam: EY
It was prescient that at the start of the pandemic professional services firm EY decided not to make redundancies in the recruitment team nor put any recruiters on furlough. Later in the year requisition loads "absolutely exploded" says Matthew Jeffery, director, UK & Ireland (UKI) talent attraction and acquisition leader (TA2). In the Covid-impacted year, EY UKI made more than 3,500 experienced hires and 1,000-plus students (school leavers, graduates and apprentices). It is predicting a big year in 2022 and is expecting to make more than 5,500 hires in UKI. To support the business, Jeffery is seeking to build one of the most "innovative, disruptive and fearless teams" in recruiting. To this end, he has hired two previous 11 Most Influential stars in the form of Sam Ramsay (formerly of Balfour Beatty and House of Fraser), as head of experienced hires, and Becky Foden (previously of Capita and Transport for London), as head of student hire. Embedding a deep recruitment strategy into the core business strategy, competitor intelligence, pipelining ahead of demand and disruptive recruitment marketing are also all on the agenda. In the bigger picture, EY wants to encourage and spotlight future leaders in the industry and elevate their stories and brands. Applying typical Jeffery creativity to boost morale, he sent the team personalised EY celebrity messages everyday throughout December involving the likes of David Hasselhoff, the cast of EastEnders, Coronation Street and Strictly Come Dancing, while Mr Motivator created a lockdown workout for the team. With homeworking becoming the norm, more team bonding events are planned for the future.
---
11. Craig Morgans
Global head of talent acquisition, IWG
Despite joining the international workspace company just a few weeks before lockdown, Morgans pushed ahead through challenging times with an immediate focus on defining the employee value proposition (EVP) or what he calls "the differentiator". The team conducted interviews with senior leaders across the globe, held employee focus groups, undertook competitor and market research and sought feedback from more than 5,000 candidates across 38 countries. Morgans has always championed employee advocacy to bring employer brand to life and continues to do so, ensuring teams have both the voice and authority to bring to life an authentic message on life behind the scenes. "Bringing your teams on this journey is critical as they'll not only believe in the messaging and the values, but honestly – and consistently – translate this when communicating the brand message," he says. He adds that employees are "front and centre" of the brand, with a strong visual identity. The team also overhauled several legacy career websites, aligning with the core EVP of 'Ambition Never Stops'. Covid-19 slowed down operational recruitment demands but the team still delivered close to 3,000 hires in 18 months.
Image credit | Shutterstock