Is your firm disability friendly? Then shout about it!
Is your firm disability friendly? Then shout about it!
Colin Cottell
12 March 2020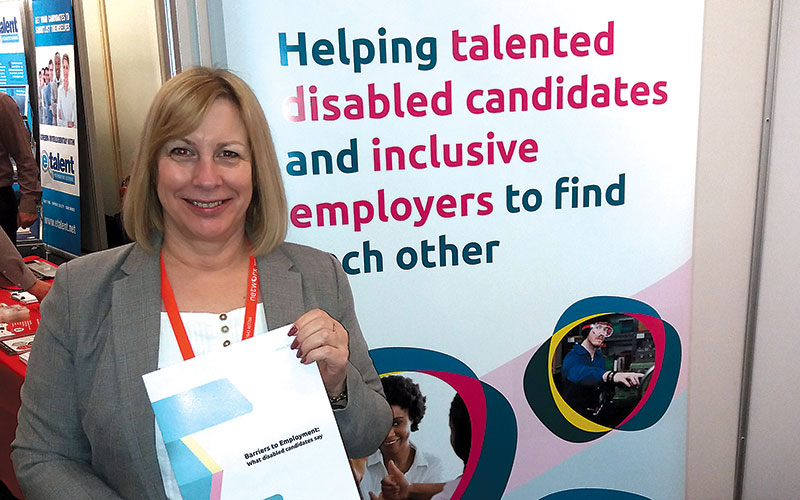 Disability-friendly employers need to be more visible to disabled candidates, according to the founder of disability job board Evenbreak.
Recent research commissioned by the job board found 82% of disabled respondents reported that their most pressing problem was finding a disability-friendly employer, said Jane Hatton (pictured). Elaborating, Hatton said: "It is important for disabled candidates to have confidence in an organisation before they apply."
The report, 'Barriers to Employment: What disabled candidates say', says: "It is difficult to predict which employers will be positive about employing disabled people." And with 15% of disabled people applying exclusively to employers known to be disability friendly, this means that not only are disabled people not applying to other employers, these employers are missing out on talent.
Hatton urged employers to do more to demonstrate that they are inclusive. "Some easy ways for employers to demonstrate this are to advertise in places where disabled candidates look, such as a specialist disability job board, or in disability journals.
"Other ways could include sharing content on social media about inclusion – maybe a video of a disabled employee talking about their positive experience in the organisation, or a statement from a senior person about why they are actively looking to attract diverse talent. Signing up to the government's Disability Confident Scheme and displaying the logo will indicate that disability is on the employer's radar."
While most employers claim to be 'equal opportunity employers', the report says the experience of disabled candidates "paints a different picture… with even those who have active diversity policies tending to focus on gender and race rather than disability. Candidates report regularly being rejected at the point their impairment becomes apparent".
Among the report's other findings are:
71% of respondents said employers lacked empathy and understanding about the issues disabled people face
80% said there was a lack of information in job adverts about workplace polices and 'reasonable adjustments' that are required by law
47% said they had come across a lack of interest from interviewers.