Tackling workforce challenges head on
13 December 2018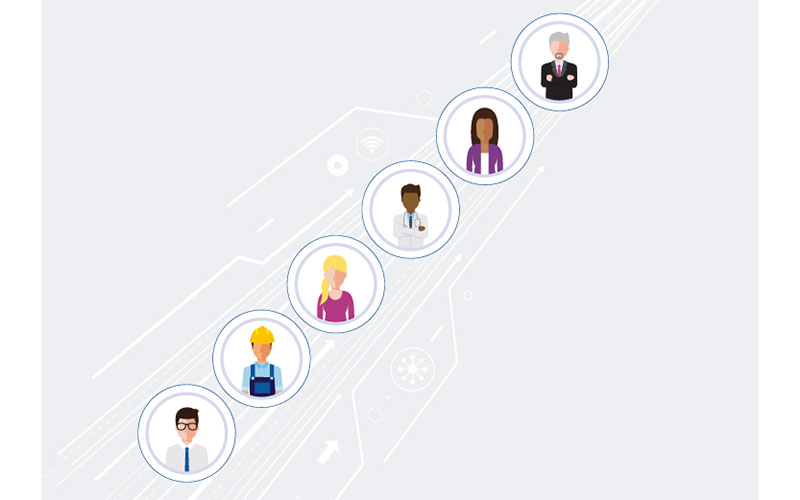 The REC's latest Future of jobs whitepaper highlights why recruiters need to take urgent action to adapt to changes in the labour market. RM explains how they can make a difference.
Two thirds of children entering primary school today will end up working in jobs that don't yet exist. The scale and speed of change in the labour market potentially has massive ramifications for the recruitment sector – and in turn, recruitment professionals have an increasingly important role to play in helping individuals to navigate it.
But to create a world-leading jobs market that works for everyone by 2025, those who can influence it need to get on the front foot. That was why, a year ago, the REC's Future of jobs commission set out recommendations for policy makers, employers and recruiters. After all, the best way to pre-empt the future is to create it.
The REC called on employers and recruiters to:
Plan for disruption by developing workforce plans that reflect demographic, technological and labour market changes
Re-imagine hiring procedures to find new ways of attracting staff and skills
Make inclusion the norm by delivering tangible progress on diversity & inclusion and embedding flexible hiring
Be future of jobs ambassadors, working with local schools and colleges to help prepare future generations for the changing world of work.
The future for public sector jobs
A year on, the REC is keeping up the pressure by launching a second follow-up white paper focusing on the future of jobs in the public sector. And with concern about the impact of Brexit reaching a crescendo at the end of 2018, it highlights that there has never been a more important time to review the latest workforce trends and find solutions to current and future challenges.
Staff shortages among NHS workers and teachers are headline grabbing concerns. Not only have 10,000 EU staff left the NHS since the Brexit referendum, the NHS could be short of 51,000 nurses (enough to staff 45 hospitals) by the end of the Brexit transition period alone, says the National Institute for Economic and Social Research.
Among REC's specialist recruiters, 77% say health and social care staffing shortages over the next five years will increase significantly – and 47% say the same for teachers.
Evaluating the impact that post-Brexit immigration models could have on staffing in the public sector – and pre-empting the effect – is therefore an immediate priority.
But the public sector also needs to develop a new generation of leaders – from a much more diverse range of backgrounds – to implement the wide-ranging transformation projects needed to create services fit for the future.
Poor management is cited as a key factor in poor UK productivity levels. The UK currently has an estimated 2.4 million untrained 'accidental managers' – and, according to the OECD, it costs UK employers around £84bn a year.
And as skills shortages persist, the public sector faces stiff competition from the private sector for talent. This is especially true for technology roles needed to maintain cyber security and to deliver the public sector's 'digital by default' approach.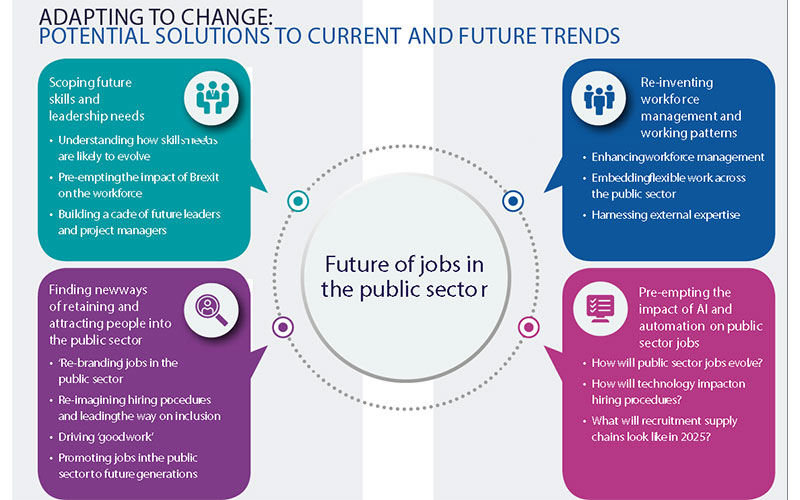 New ways of attracting staff
Once the scale of the challenges are clear, the burning question is how employers and recruiters can make a difference. Already many are looking at new ways of attracting staff.
These include rebranding public sector careers to make them more attractive, and focusing on positive 'hooks', including workplace culture, progression and purpose. Revamping hiring practices, embedding flexible working and inclusive recruitment will also drive better results.  
And 69% of REC health and social care members say increasing salaries would help to attract more people into health and social care roles over the next five years, while 85% believed flexibility and work-life balance are the main reasons why healthcare workers choose to work via an agency.
Meanwhile, 72% of REC education members think improved working conditions and support infrastructure will attract more people into teaching roles.
New ways of working
The public sector will also have to adjust to new ways of working – whether that's using flexible staffing models to ensure cost-effective and safe staffing levels; harnessing artificial intelligence and other new technology; or learning from best practice in other fields and tapping into external expertise to find cost-effective ways of working with freelancers, contractors and recruitment specialists.
It also needs to get better at training from within to create future leaders and managers equipped to navigating a fast-changing landscape.
New ways of speaking up
To support the findings of the Future of jobs commission, the REC launched The 'Future of Jobs Ambassadors' network – a group of forward thinking and innovative recruitment leaders who help young people on their journey by working with schools, universities, and Local Enterprise Partnerships to provide work experience placements, jobs, advice and coaching.
Building a better bridge between education and the world of work remains fundamental to the long-term future of work – and the more recruiters that get involved, the bigger the difference they can make.