PROFILE: David Spencer-Percival
Dean Gurden
30 November 2021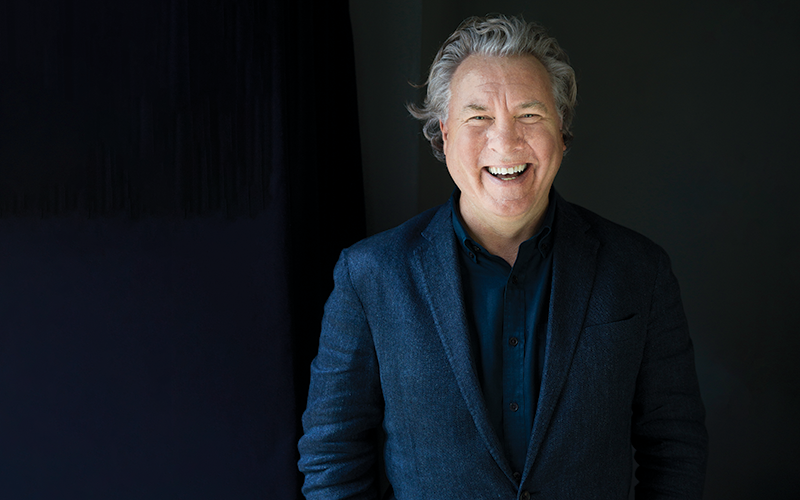 David Spencer-Percival admits luck may play a part in his entrepreneurial life but his numerous business successes prove there's a bit more involved than just serendipity
Is there such a thing as good luck? Serial recruiter David Spencer-Percival is obviously a very shrewd and skilled entrepreneur. His record speaks for itself. The Huntress Group, his first recruitment business specialising in IT, was sold for £50m. More recently he sold his highly successful global energy, engineering and infrastructure recruitment business, Spencer Ogden. And now he's recently established Life Science People to service the medical and life sciences market.
But there is a thread of serendipity running through the three enterprises, as he will readily admit: "I'd like to think there isn't an element of luck in business, but we sold Huntress three months before a global financial crash – that's luck. There's no other word for it. And Spencer Ogden was sold six weeks before the pandemic. Again, pure luck. And setting up a life sciences recruitment business just before a pandemic occurs. Again, very lucky in some ways."
But luck can only get you so far. Clearly, Spencer-Percival has worked very hard indeed, and it's this and his keen eye for an opportunity that really fuels his success. After selling the Huntress Group, a non-compete clause meant he had to look beyond tech for his next venture. "I saw this enormous gap in the market in energy," he says. "There were a lot of renewable energy enterprises setting up and the oil price was flying. When that happens, everyone goes exploring for oil, so we decided to ride that wave.
"For me, the sector was full of tiny recruiters operating at a relatively low level and three or four absolute giants, and nothing in between. I found that fascinating and thought it would be cool if someone came along and started a new energy recruitment company with a bit more, forgive the pun, energy and style around the offices and branding."
I'm good at engendering a culture where everybody is excited about grabbing an opportunity and growing"
Life science focus
As for his current venture, Life Science People, Spencer-Percival saw it as the last backwater in recruitment that nobody had ever really focused on. "Obviously with the pandemic, everyone's spotlight is now on life sciences and it's high up on the political agenda," he says. "But prior to this, nobody had really got into the market.
"A few recruitment companies had added a bit of life sciences to their offering, or there were a couple of outfits that had been doing it for an awfully long time. So, again, I thought it would be great if I could set up a bright, fresh, young recruitment company that concentrated exclusively on life sciences and do it really well."
But while the pandemic has obviously fired up global interest in the life sciences and biotech – AI has speeded up clinical trials – it's also made setting up new ventures trickier. "I'd bought the lease on the office and already hired two people when the pandemic hit," says Spencer-Percival. "I remember thinking 'this is going to be interesting. We're about to set up a life sciences business that's connected to clinical trials and drugs, and we've hit a pandemic. Is this going to be good or bad?'."
He faced the stark choice of whether to park the whole idea or just plough on. He opted for the latter and hired a further 15 people during the first lockdown, bucking the norm and opening an office as soon as the lockdown ended. "We realised very quickly that people were actually going a bit crazy at home and young people, in particular, were desperate to get back into an office," he says.
"We obviously did social distancing, temperature tests at the door and made mask wearing mandatory," he adds. "It was tough, but it worked. And now, coming out the other side of the pandemic, which I think we are, everybody in the world is hiring. We took a brave decision and it's paid off."
I guess I'm not particularly good at being told what to do, and anyone with an authority problem generally ends up running their own company"
Building the brand
What is the Spencer-Percival brand? He'll admit there are better people than himself at running large, complex organisations, "but I'm really good at getting a business built quickly", he says. "I'm good at engendering a culture where everybody is excited about grabbing an opportunity and growing, and being part of something special. I think that's probably my brand."
In creating an environment where success is celebrated, Spencer-Percival also admits to being fixated on quality office space. "I love creating a really cool environment that people want to come to work in," he says. "And I like to offer a lot of incentives around the business and reward people. That said, recruitment is tough – I expect people to work hard at it every day. I like an underlying culture of work hard and play hard."
Spencer-Percival confesses that he wasn't always that driven, and the entrepreneurial itch wasn't something he was born with. "To be honest, I messed around in the fashion industry for about 10 years when I left school and hung out in Ibiza most summers, so I was a late developer," he says.
But growing up in Thatcher's Britain, where most of his friends were starting their own companies, an entrepreneurial seed was planted and gradually began to take hold of him. By the time he (in his words) "fell" into recruitment and realised he was relatively successful in that sector, he realised he wanted to go it alone.
"I definitely had to learn how to do this though," he says. "But once I learned how to build my own business, I knew I didn't want to do anything else. I guess I'm not particularly good at being told what to do, and anyone with an authority problem generally ends up running their own company."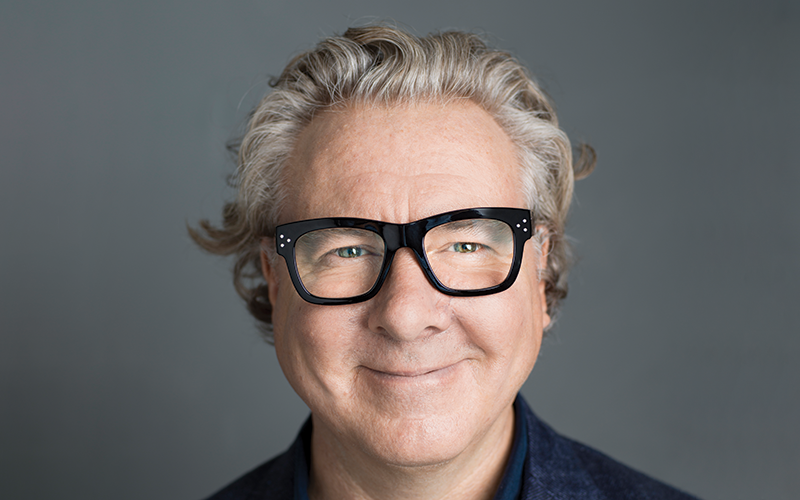 Strings to his bow
Recruitment might be his first love, but having also founded drinks brand No1 Botanicals, which is sold in more than 27 countries, Spencer-Percival clearly has other strings to his bow. I ask him if he has any other ventures in the consideration stage that he can reveal? "I'm very interested in space exploration," he says, "but you need billions of dollars to do it. And I'd love to do something green that helps save the planet.
"Actually, I'm setting something up in 2022 that might help. Over the years, I've often questioned why charities are paying for the services they use, such as recruitment or accountancy. So I'm going to set up a recruitment company that deals exclusively with British charities and any distributable profit that the company makes will go back to the charities as a percentage of how much they spent with the agency."
Spencer-Percival is baffled why all sectors don't do this. "Why should big accountancy agencies, for example, make millions doing the accounts of charities?" he asks. "So that's something I would like to change before I retire."
Not that retirement seems likely anytime soon. With a home in London's Chelsea, Spencer-Percival's modus operandi is very much "work like crazy for five days and spend two days in absolute peace and privacy". A second country house in the Cotswolds in Gloucestershire and the recent purchase of a fruit farm in Ibiza offer the peace and privacy part of the equation.
Unfortunately, he didn't manage to escape Covid-19 and was very ill with it. It's taken him a good nine months to recover fully. "I normally have a lot of energy," he says, "even though I'm getting older. But after Covid I was like a battery running out of power, but very quickly. It was quite debilitating, particularly for the new recruitment business."
Thankfully, with his energy levels back to full strength, he can continue making more of that Spencer-Percival luck. As his dad used to say to him: "It's funny, the harder I work, the luckier I get."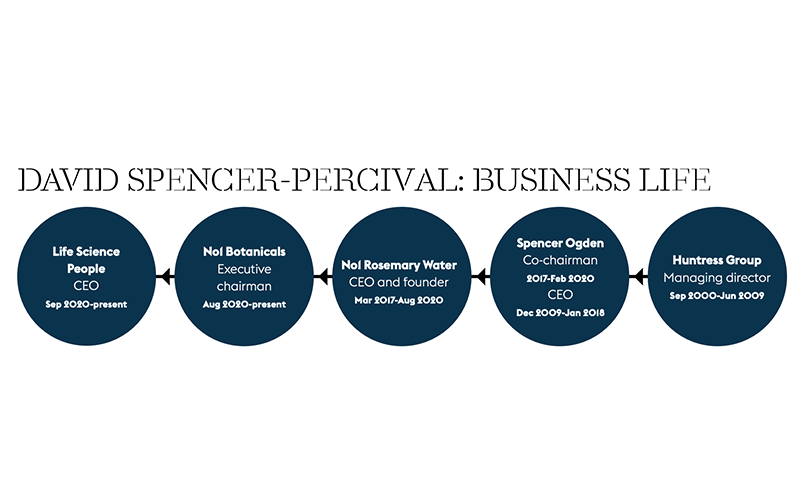 Image credit | Pål-Hansen