TREC Agenda 2018
30 May 2018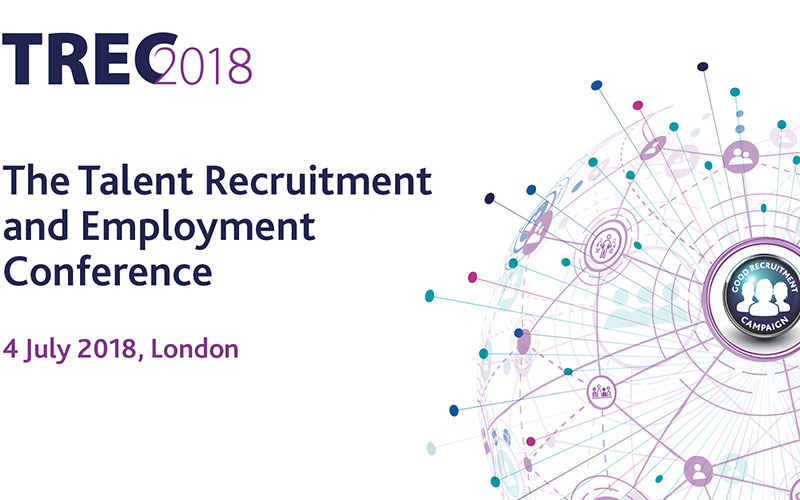 The Talent Recruitment and Employment Conference is holding a one-day conference in London.
TREC, now in its fifth year, is a one-day conference for senior decision-makers to engage in high-level interactive sessions about the future of resourcing, talent acquisition and retention strategies.
Speakers this year include Jo Youle, CEO at Missing People, on daring yourself to change the world; 'Google Dave' Hazlehurst discussing the future of employer brand; and Lucy Adams, author of HR Disrupted, on how HR professionals can add more value to their businesses.
We are also delighted to announce that Rt Hon Esther McVey MP, Secretary of State for Work and Pensions, will be hosting our Future of Jobs panel – having chaired our Future of Jobs Commission.
Visit www.rec.uk.com/trec2018 to register your interest
Date: Wednesday, 4 July 2018
Venue:  Grand Connaught Rooms, 61-65 Great Queen Street, London WC2B 5DA
09:00 Registration, refreshments and networking
09:30 Welcome Chris Moore, Chairman of REC and President of Group Operations at Adecco
09:45 Introduction Conference Chair, Kevin Green, Chair, The Good Recruitment Campaign
10:00 Panel session: The Future of Jobs Chair: Rt Hon Esther McVey MP, Secretary of State for Work and Pensions Panel: Catalina Schveninger, Global Head of Resourcing and Employer Brand at Vodafone Neil Morrison, HR Director at Severn Trent Rob McCargow, AI Programme Leader at PwC
10:45 Keynote: Jo Youle, CEO at Missing People 'Dare yourself' This inspirational talk from TEDx speaker Jo Youle, will cover topics such as taking opportunities and opening doors, not waiting for perfect moments, putting in the graft, following dreams and ambitions, and changing the world for the better.
11:15 Refreshments and networking
11:45 Roundtable sessions: These discussions, whilst having a facilitator to help manage the discussion, are an opportunity for delegates to share their questions, learning and experiences around a common topic. Roundtable topics and facilitators;
1. Candidate experience
Ben Gledhill, Head of Resourcing at Yodel
2. Employer brand
Sarah Gallo, Head of Resourcing, Employer Brand and Attraction at Tesco
3. Diversity and inclusion
Jenny Roper, Editor, HR Magazine
Kesh Ladwa, Head of Resourcing for Group Functions, Nationwide Building Society
4. Talent analytics    
Alan Agnew, Global Head of Talent Sourcing, Campus and Talent Analytics at Philips
Ed Houghton, Senior Research Advisor: Human Capital and Governance at CIPD
5. On-boarding
Nigel Barker, Head of Talent Acquisition, Europe at Mondelēz International
Simon Fawkes-Underwood, Head of Talent Acquisition at E.ON
6. Legislation
TBC
7. HR tech    
Bill Boorman, Founder at @BillBoorman
Matt Alder, Talent Acquisition and Innovation Consultant at Metashift
8. Building internal talent pipelines             
Daniel Harris, Talent Acquisition Lead at AECOM
Selina Begum, Head of Resourcing at Springer Nature
13:00 Lunch and networking
13:45 Feedback from roundtable sessions
14:15 Keynote: Lucy Adams, CEO at Disruptive HR Disrupt talent acquisition Lucy Adams, author of HR Distrupted, will talk about why she thinks it's time for something different. Lucy will give her views on how HR professionals can add more value to their business, with a particular focus on resourcing and talent acquisition.
14:45 Panel session: What does the resourcing function of the future look like?
Chair: TBC
Panel: Debbie Robinson, Director of Talent Acquisition – Global Talent Pipelines at PepsiCo
Kevin Blair, Vice President, Global Talent Acquisition at IBM
Jennifer Candee, Global Head of Talent Acquisition and Employer Brand at Mondelēz International
15:30 Keynote: Dave Hazlehurst, Partner at PH.Creative The future of employer branding
16:00 Conference summary, close and networking drinks