Recruiters seek efficiences in a tighter market
Belinda Johnson
19 September 2019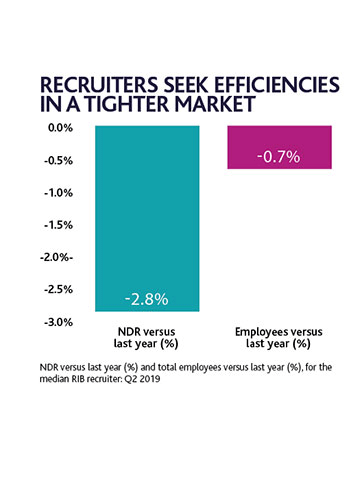 Recruitment Industry Benchmark's new Index.
The latest information from Recruitment Industry Benchmarking's RIB Index shows that net fee income (or NDR/GP), the total amount earned in fees, declined by 2.8%, year-on-year, for the average RIB recruiter in Q2 2019.
Having achieved positive growth in NDR in each quarter across 2017 and 2018, a dive into negative year-on-year growth in Q2 2019 means that businesses started looking at their costs in order to remain profitable. As anticipated, they reacted by trimming their largest overhead – their employee base – with numbers down 0.7% year-on-year. As headcount reductions tend to lag a month or so behind negative NDR growth, we can expect to see that further adjustments will have been made early in Q3 2019.
Belinda Johnson runs employment research consultancy, Worklab, and is Associate Knowledge & Insight Director of Recruitment Industry Benchmarking (RIB). The RIB Index provides bespoke confidential reports on industry benchmarks and trends. See www.ribindex.com; [email protected]: 020 8544 9807. The RIB is a strategic partner of the REC.