Profile: Turning a new Page
DeeDee Doke
23 March 2021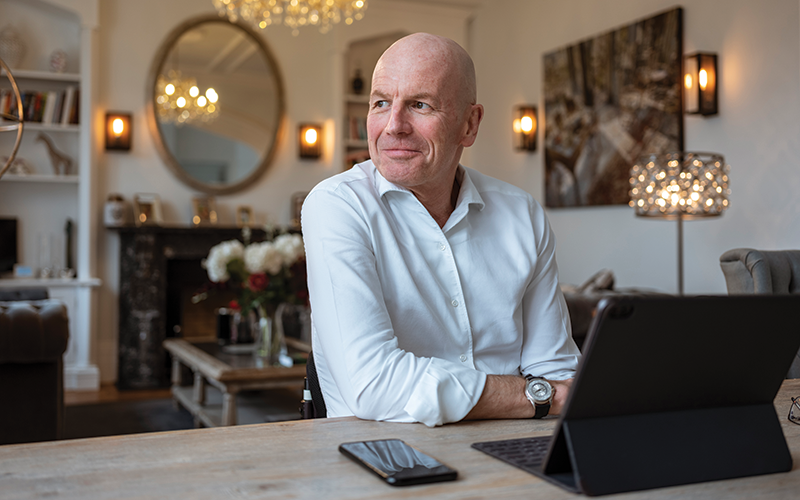 A life-changing skiing accident could have had a devastating effect on PageGroup's CEO Steve Ingham. DeeDee Doke spoke to him about how life has changed
Shortly before Steve Ingham and I are to begin our conversation, our first for a few years, a mighty crash has jolted Ingham's London house. This particular house has recently undergone a lot of renovation, but apparently a piece of the building near the roof has plummeted to ground.
However, everyone in the household, including the dog, is safe. So Ingham is in fine humour, crisp and energetic in one of his signature pastel, button-up shirts, open at the top. His office is on the top floor of the house, where renovations had begun before the life-changing accident that left him paralysed from the navel down during a birthday skiing trip to Switzerland in March 2019.
When the accident happened, the CEO of PageGroup and his fiancée were living in a rented third-floor flat with no lift. But they had already purchased this house, and the builders were in. "It needed a lot of work, the roof was off and scaffolding was all over it. I mean, it looked like it was being held up by scaffolding," he recalls.
I'm not medical, but I knew that I didn't have long, and I also knew that if I took a rest or if I closed my eyes, that was it"
"And then I had the accident," he says. "So, I rang them from intensive care, and said, 'Stop'. They went, 'Why?' and I explained. I said, 'I just need to know that whatever you're doing, from now on, isn't going to have to be redone, because I need a wider door, and I will need this, or I need that because of my disability. At the moment, I don't know all the answers because what I learn over the next few months will give me those answers – but you know, I don't know whether I will want to change the design of the house'.
"Obviously," Ingham continues, "lifts were going to have to come into play, and you have to get planning permission if you've got a house of this age. So we had to work out whether, architecturally, there was a route for a lift to be able to go up and down the building so I could access every floor.
"So," he says with some understatement, "there was a lot going on."
Living life
Flashback to March 2019, when in addition to completing expensive renovations on the newly purchased house in London's St John's Wood, Ingham was looking ahead to his daughter's wedding in late summer and attending the 2019 Rugby World Cup in Japan in the autumn, along with his usual fast-paced activity at the global PageGroup business.
But as John Lennon once said, 'Life is what happens when you're making other plans.'
On 10 March, during his Swiss holiday, Ingham was skiing alone – "unusually and against everybody's advice", he says – when he lost control on a tight corner, fell down a rocky chasm and landed in an icy stream. Even in those initial moments, he knew he was paralysed: "Actually, I had far bigger issues that could have killed me then – one of them was hypothermia because you're lying in a river, right, and it's Switzerland, so you're pretty cold.
I'm very happy, very motivated still in Page. I want to lead and leave a good set of results, which they clearly weren't last year"
"What I didn't appreciate was I'd also smashed a whole bunch of ribs that had gone into my lungs, so my lungs were filling up with blood. I had a litre and a half of blood when I got to the hospital, which they had to drain out because I couldn't breathe properly," Ingham says.
"I knew I was in a lot of pain. I knew about the hypothermia, and I knew I was paralysed because I couldn't feel my legs – I could feel how cold the river was, but my legs couldn't.
"So straight away, while I was lying in the river, stream, whatever, I was thinking to myself: 'Well, I'm going to have to be in a wheelchair.' You know it's a different kind of physical challenge. Ok, I can deal with that," he says. "But I need to get out of this bloody river because I will die soon from hypothermia."
He fought hard to stay awake as the icy water ran through his gloves and other clothing. "I'm not medical, but I knew that I didn't have long, and I also knew that if I took a rest or if I closed my eyes, that was it. It was a one-way street, you're gone," he relates. "And there is an overwhelming desire to go to sleep. It's an unbelievably powerful feeling, and if you get into it, you're dead. It's as simple as that."
Ingham estimates that about 35 minutes passed before he was spotted. His calls for help and throwing nearby objects into the air such as gloves and ski poles attracted the attention of a passing Frenchman who stopped for a brief respite at the top of the chasm. The Frenchman alerted emergency authorities, along with Ingham's fiancée, who was waiting for him at their appointed lunch spot. A Swiss mountain rescue team eventually arrived, then a helicopter to ferry Ingham to hospital.
"I remember the doctor climbing down, and I just said, 'Look, can you give me something for the pain?' He said, 'No problem.' Then I went into a coma. And I didn't wake for three days, probably because they made sure I didn't."
A terse message from PageGroup notified the City that Ingham had been involved in a serious skiing accident. PageGroup CFO Kelvin Stagg managed the business in Ingham's absence while Ingham's treatment for his spinal injury, recovery and rehabilitation took place at hospitals in Switzerland and the UK.
With metal on his ribs and metal on his back and undergoing operations, he was now beginning the process of learning how he needed to live his new life. "The limit of what I knew was I'd probably be in a wheelchair, but I had no comprehension of what it actually means," he acknowledges. "You find out all the complications, all the difficulties, all the challenges which, you know, you don't actually learn about until a month, two months, three months, four months, whatever. It's more of a gradual process so that you know, look, I'm paralysed.
"You know what works, what doesn't work," he says. In his case, everything above his waist, he says, "works 100%". But below his navel, "you know, it's mixed".
Living life differently
He is candid about how he must exert planning and control over body functions differently than before his injury. And he also talks about the follow-on complications that struck, such as heterotopic ossification or the abnormal growth of bone in the non-skeletal tissues including muscle, tendons or other soft tissue that led to more surgery, more pain and more down time than he wanted.
Physically active before his accident and a rugby player in his youth, Ingham was not able to train for some months, even after returning to work at PageGroup. However, he works with a personal trainer three times a week on Zoom, as well as enjoying visits from his former hospital physiotherapists for two hours a week to help him "do stuff that's very specific to the muscles I need to do stuff to".
For his home, he's invested in a stationary bicycle that can exercise his paralysed legs through functional electrical stimulation, and his workout to keep his legs strong and muscular is 'cycling' 15km uphill. It's working, he says.
So, he jokes, "one of the demands of being disabled is that I have to fit all of these hours into my normal life, which is, in my case, working and family. You have to be quite disciplined now to deal with that". But staying fighting fit, as Ingham has always aimed for, also will help prevent other medical problems from creeping in and improves blood circulation too.
Another bit of kit in the arsenal is a standing machine that helps him to stand on his own two feet. "I stand three or four times a week because otherwise I'd have osteoporosis when I get old. Your heart and your bones work on gravity," he says. "Your heart works harder when you're standing up than when you're lying down, obviously because it is pumping blood up and down against gravity. So, therefore if I sit down all day, my heart gets lazy."
Yes, he has a home gym – a luxury he had organised before his accident. He simply changed the order to reflect his new requirements and get equipment he could use, along with a running machine for his fiancée Sara. "We've got a room that's dedicated to fitness and with a TV so I can watch the rugby and the cricket at the same time," he says.
Living life enjoyably
Ingham does not wear his financial advantage lightly; he knows he is one of the fortunates who can afford the expensive aids and support that enable greater wellbeing, leading to both greater productivity and greater enjoyment of life.
Speaking of enjoying life, Ingham clearly is at this time, although he admits he is "always in pain". He managed even in the first year after his accident to both celebrate his daughter's wedding and the Rugby World Cup in Japan – in person.
Recalling his daughter's wedding on the beautiful and hot August Bank Holiday in 2019 brings a point of particular pride, and also gives him a bit of a laugh. "I stood up. I stood up on the wedding day, at my daughter's wedding," Ingham says.
What he did not know before his accident was that his new body state would give him an advantage over others in hot weather. Before his accident, he ran to work at his central London office, "and when I ran to work, you had to stay well clear of me because I rained sweat. People could be 10 yards away, and they'd get wet. It was disgusting", he says. Now, however, paralysis has changed how his body deals with heat.
"Your temperature clock is completely screwed by paralysis," he says. "I don't sweat anymore." At the wedding, he not only stood to give the father of the bride's speed, with help from a special wheelchair that could help him rise and stand, Ingham was quite comfortable in his top hat and tails while everyone else drowned in perspiration. "It's quite bizarre," he says.
Looking ahead, Ingham will remain at PageGroup's helm for the foreseeable future. "Yeah, there's a bit more work to be done, and you know I'm very happy, very motivated still in Page," he says. "I want to lead and leave a good set of results, which they clearly weren't last year." [Editor's note: PageGroup reported a 28.7% drop in gross profit in 2020 from 2019 and an 89% fall in profit before tax in 2020 from 2019.]
"I want to leave the company in good health and doing well," he says. "I need to see them through, and make sure that we get through it completely and capitalise on it as well."
"And then, you know, at some point in the future – my decision, or the main board's decision or somebody's decision, then we'll call it a day."
When that house is in order, life will undoubtedly continue in Ingham's 'get things done' style, likely to advocate in some way for disabled inclusion in the UK's workplaces. "I'm gradually building a plan," he says, "as I build that knowledge bank and listen to lots of people. Hopefully I'll have a clear agenda and a clear plan as to how to keep the momentum going – and make a little bit of a difference before, you know, I check out altogether."