Employability: Turning a crisis into an opportunity
Colin Cottell
30 September 2020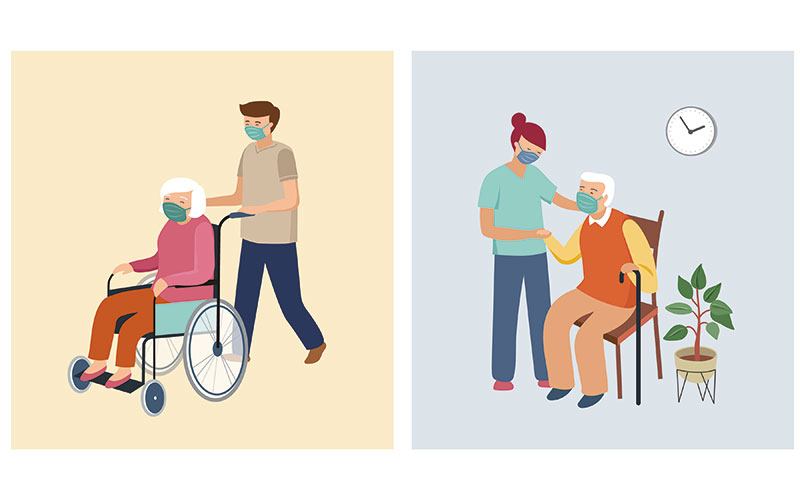 The care sector has found a wealth of applicants with a background in customer services from other sectors hard-hit by the pandemic – a win for the recruits and the clients, writes Colin Cottell
Britain's care workers have been in the forefront of the country's battle with coronavirus. Often regarded as the poor relations of the NHS, when the virus took hold, the failure to provide adequate testing for staff and care home residents, as well as a shortage of PPE equipment and with many paid just the National Minimum Wage, it was hardly the most attractive message to send out to potential recruits.
But even as care workers were being lost to the virus, a large provider of care for elderly people was noticing a significant increase in the number of applications. Earlier in the summer, Karen Dakin, head of people at Home Instead, told Recruiter: "Since the lockdown began we have had 16,000 applications, compared with the normal figure of about 13,500." That number has since grown to 35,038 applications for the company's care-giver roles, resulting in 1,876 hires. Established in 2005, Home Instead's 9,000 care givers provide help for more than 14,000 elderly residents in their homes, as well as specialist end-of-life and respite care.  
Dakin says one of the main reasons why Home Instead has attracted more people to apply is the company's concerted campaign to attract applicants from other sectors, notably retail, hospitality, leisure and tourism that have been hit hard by the pandemic.
She explains: "We've contacted the HR departments of more than 62 companies to tell them about Home Instead and the job opportunities for their employees."
Among these are Manchester Airport, airlines such as Virgin, easyJet and BA, and TUI and P&O Ferries. Others include retailers, such as Laura Ashley, that have gone into administration, and restaurant chain Frankie & Benny's, which is closing outlets.
In terms of measurable impact, Dakin says: "We have seen an upsurge in applications from companies such as BA, Alton Towers and several football clubs."
She adds that as soon as the government announced the lockdown measures in March, the company's marketing team and recruitment team swung into action, not only getting in touch with other companies, but working with various partners, with the aim of "highlighting the opportunities for people to come in and join us and make such a difference to people's lives".
Making a difference
Home Indeed was integral to the thinking behind the Department of Health & Social Care's 'Care for others. Make a difference' campaign that was relaunched in April, Dakin explains, and had strong links with the Keep Britain Working Campaign led by recruitment consultancy chain REED that aims to redeploy workers from struggling sectors. It also advertised on a specialist hospitality portal called Harri, and worked with a digital community platform for the over-50s called Restless.
Even though most of those who work in retail, travel and hospitality will not have previously worked in the care sector, Dakin says they are ideal for Home Indeed.
"I guess where the idea came from to look for people from these sectors is that Home Instead is a values-based organisation, and we are always recruiting those who put others first. As long as someone is willing to learn, we will give them the training, as long as they match our values.
"People from these sectors work in a customer-focused environment already and what shines through is they are helpful, they are kind, they are considerate, and their approach to customer services actually matches what we are all about, which is a personal sense of care.
"You go into those industries because you want to make a difference, and that is exactly the difference that can be made with our elderly clients who need that support."
Boosted by virtual interviews
While a strategy of targeting people from sectors that have been decimated by the coronavirus but where there is a similar customer service ethos has proved a success, Dakin says it has been given added impetus by changes to the company's recruitment and onboarding process.
The company has taken advantage of a new rapid recruitment and induction process launched by Skills for Care, which supports the care sector in England in finding the skilled workforce it needs. This means that some of the interview process can now be done virtually. Job interviews have also been tweaked, allowing the company to offer candidates better support after they begin work.
Dakin explains: "At every interview we ask the candidate 'What is important to you?' So if someone replies 'Interaction and teamwork' we make a note of that, so we know to keep people more in contact with that individual, because we know they don't like working in isolation, or alone, so we know to invite them to a team quiz on a Saturday night to keep them connected."
Some staff induction is now done via Zoom and other technologies, although other elements of training – such as in social distancing – must be completed face to face.
Dakin accepts that some candidates from other industries may be concerned about the dangers to their own health and wellbeing from working in the care sector during the Covid-19 pandemic. However, she says that what helps them through their anxieties "is that people really want to care and make a difference".
Nevertheless, she says the company has taken a number of measures to provide new employees with the reassurance they need, including training courses on infection control, and following the guidelines on PPE.
The company also communicates with its staff daily and sends out practical tools, and has invested in an employee assistance programme, which offers virtual counselling sessions. There is also a strong focus on wellbeing, with podcasts, advice on mindfulness and signposting staff to helpful resources. For those joining the company from other sectors, Dakin says a buddy system with a colleague provides an extra layer of reassurance.
Although most of those joining Home Indeed from other industries have not worked in the care sector before, and perhaps never expected to, Dakin is hopeful that many will remain and not drift back to their old jobs when the economy recovers.
She says: "I believe that once our care givers develop really close relationships with our clients, they find it hard to leave. For example, we have student nurses who work for us – they're at university but they continue to look after clients at weekends."
There will be others who will want to stay because they are making a difference. Dakin cites a former carpenter who says: "I can't go back to that – this is what I was meant to do in life."
She adds: "So it might be mix of these people, and also people who might want to do part-time, weekend hours if they have clients who they have a close relationship with, so we really hope they will all decide to stay with us." 
---
Perfect role for a people person
Leigh Lawley, having run a pub in Droitwich and worked in the pub trade for more than 10 years, is typical of the type of employee who joined Home Instead from industries hit hard by Covid-19.
She explains: "I still wanted to do something that involves being around people. And I thought, obviously with everything going on at the moment this sector was one of the places that needed the most help. And I could actually make a difference and feel as if I'm doing something worthwhile."
Lawley says her background in the pub industry means she is well-suited to the care sector.
"When I was in the pub obviously I was dealing and speaking with different kinds of people all the time, so I think that's really helped me in this sector getting to know people and making them feel comfortable with me being around them.
"I like to have made someone's day that little bit easier – that's one of the best things, but generally just talking to people and getting to know them. Some of those I've met have some great stories about things  they've done in the past. It's a really rewarding job. I think I'll probably stay in the care sector for a good while."
Picture Credit | Shutterstock